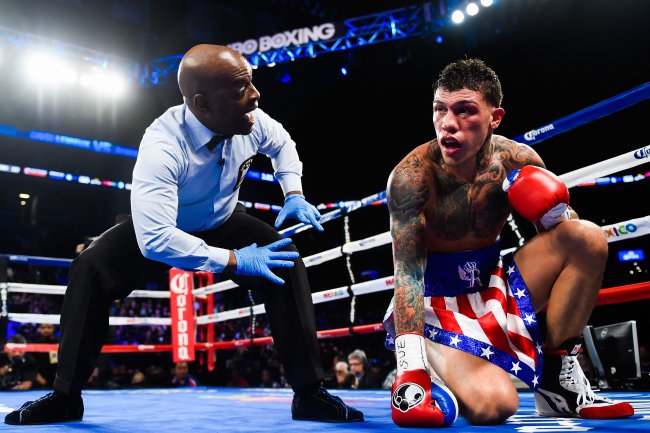 In boxing sometimes when you lose, you win.  That might have been the case this past Saturday night on HBO from the Barclays Center in Brooklyn, New York, when tough Philly fighter Gabriel Rosado lost the war but won over the crowd in a tough tenth round TKO loss against David Lemeiux of Canada.  With now nine losses on his record but a string of exciting performances in recent years, Rosado might still have a ticket for another shot on HBO as a gatekeeper while Lemieux might have punched his ticket to Golovkin-ville for summer of 2015.
Rosado came out guns-a-blazin' from the opening bell as he scored quick multi-punch combos to the slightly shorter Lemieux.  Lemieux remained cool, calm and collected and early in the fight swelled up both of Rosado's eyes with huge power punches, especially the left one.  Rosado's left eye got as big as expected and quickly became a problem.  Rosado kept trying to make it into a fight, boxing Lemieux from the outside but the Canadian scored the harder punches which led to in the second half of the fight for the ringside doctor to check Rosado's visibility before each round.  With his eye completely shut and Lemieux bringing it on, the New York State athletic commission stopped the fight at the recommendation of the ringside physician.
It is highly questionable whether we will see Rosado again on our HBO airwaves but forgetting about his record and going off that performance alone, we should really hope so.  As far as Lemieux, we are sure we will next year against Gennady Golovkin, an opponent he mentioned he was not afraid of during the post-fight interview.
With that said, Lemieux would make for a great fight against Golovkin but for his sake, he must work on his defense or else he will have an even ruder awakening that he experience in his only pro loss.
The knockout of the weekend and arguably of the year was scored by undefeated Hugo "The Boss" Centeno Jr over James De La Rosa in the fifth round of a scheduled ten round bout.  The fight was the semi-main event of the night.  Centeno Jr out of Oxnard, CA, and managed by Joel De La Hoya, brother of his promoter Oscar, was the taller fighter and considered the better one.  De la Rosa might have been the hungrier one as he went after Centero Jr even after going down in the first round from a power jab.  It almost looked as if Centeno Jr had not recouped from the no-contest he was awarded against Julian Williams in a fight many say he gave up in but received a gift.  Just when the talk of maybe being on a verge of an upset on the biggest platform in boxing, Centeno Jr slipped a jab and scored a flush overhand left to the face of De la Rosa that put him out cold.   Centeno Jr proved that he is not a real prospect in the junior middleweight division.  Perhaps by the end of next year we can see him disputing for a world title.
---