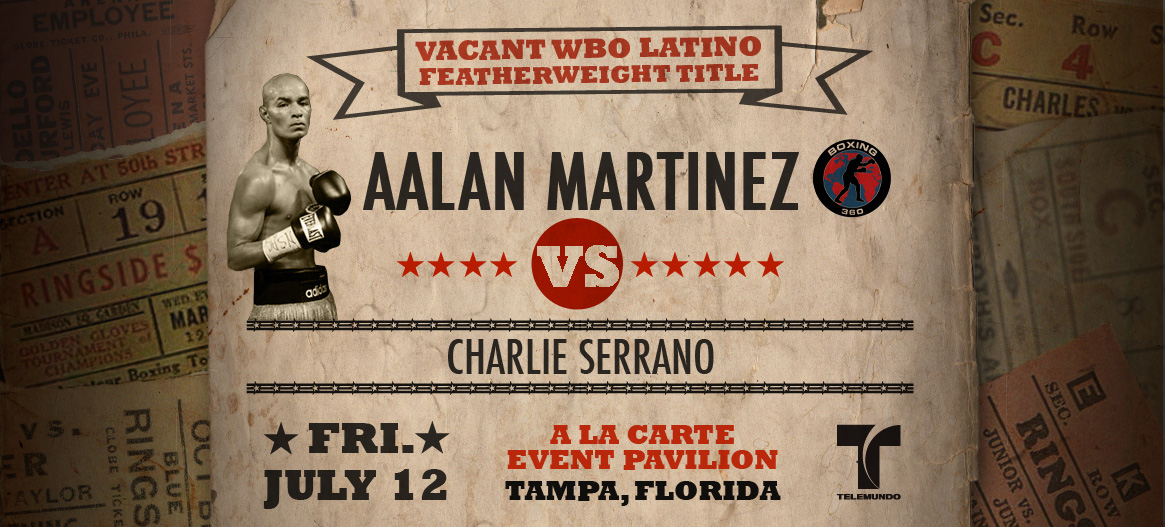 You just fought a very tough opponent in Orlando Cruz in your last fight.  What did you learn from that experience?
Aalan Martinez: I learned plenty and Cruz showed me a lot of stuff in the ring, but I think the most important lesson was realizing that these opportunities are mine for the taking and no one can get it done but me. I have a better understanding of what it means to 'do it or die trying' and that is something I will use in both the ring and outside of it. This opportunity I have in front of me now, I know a lot of fighters wouldn't have gotten this kind of chance under the circumstances.
Now you're facing Charlie Serrano for the vacant WBO Latino Featherweight title.  What are your thoughts going into this fight?
Aalan Martinez: I have my confidence and a new attitude in the gym that I plan on taking with me into the ring. My camp is all about preparing me for the tough scenarios, it can get uncomfortable in a fight and the best way to prepare is to duplicate the awkward times you experience in the ring in your training camp. Being prepared does wonders to confidence and with my preparations so on point I'm free to think about the positive aspects of the fight and my thoughts right now are simple, victory.
This will be another fight where you'll be fighting on TV.  What's that experience been like?
Aalan Martinez: Well if you're asking me if TV affects your game then I have to say it makes you more aware, if that makes sense. It doesn't affect you in a negative or positive manner and it really doesn't have to affect you at all, it's more about how you interpret it. It can be a strong motivation to tighten up your game with all the eyes on you and it can be the thing that makes you freeze in the fight, too timid to let your hands go. I think I have good control over it now and it definitely adds to my fire. Like I said, I'm fortunate to have these opportunities and I have a great team behind me.
If you come out victorious, what are you goals moving forward?
Aalan Martinez: My immediate goal is to build momentum and that means staying active and getting W's. When I win this fight my only goal will be to get another win. I can't expect to make it to where I want in the sport without paying some dues, but I know how capable I am and I have it in me to fulfill every single one of my goals in boxing.
Your promoter Boxing 360 has been keeping you busy.  How many more fights do you want to have in 2013?
Aalan Martinez: Those guys are my saviors, they have not only kept their word with everything they've promised me, but they've done things above and beyond the call of duty. If any fighter wants to know about Boxing360 well then just look at my career and everything they've done for me. History dictates that I shouldn't have the opportunity I have coming off of a loss, but that's how hard they work and how much they believe in their fighters. I trust my team and I believe that Boxing360 has my best interests in mind, so I would leave it to them. But I can tell you that I want to stay busy and fight as many times as my body will allow.
Any last words for the fans?
Aalan Martinez: I appreciate all of my fans that have been following me and I want to send a special thank you to all of those fans that reached out to me and helped to pick up my spirits after my last fight. I promise you guys that I won't disappoint and it is those fans that I have had in the back of my mind and I use them for motivation. Make sure you tune into my fight because I am not just going after the win, I want to do it in an entertaining way.
Aalan Martinez is promoted by Boxing 360.  For more information on Martinez please visit www.boxing360.com.
---