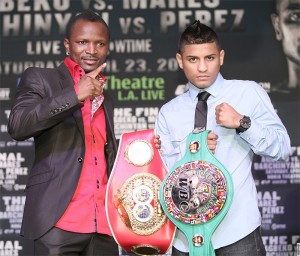 It's been nearly thirty years since Mexican legend Salvador Sanchez took on Accra, Ghana great Azumah Nelson in a fifteen round featherweight for the Sanchez' WBC strap. In that fight, which pit the 24 years old Sanchez who was 43-1-1 at the time, against the 24 year old and 13-0 Nelson. The fight was a classic back and forth struggle that Sanchez took control of late, scoring the fifteenth technical knockout.
http://www.youtube.com/watch?v=BllfooQQcZM
Sanchez' experience, though he was the same age as Nelson, was the difference. Sanchez died in a single car accident the next month, his greatness silenced forever. Nelson went on to win that WBC featherweight and super featherweight titles and defend them multiple times in classic fights with Pernell Whitaker (who nelson lost a bid for the lightweight title against), Jeff Fenech, and Jesse James Leija among others.
On Saturday, Mexican hopeful Abner Mares puts his WBC bantamweight belt on the line against Accra, Ghana IBF champ Joseph Agbeko. The fight is the finals of Showtime's bantamweight tournament and is a match-up that is as 50-50 as any fight can be.
The 25 years old Mares has been tested against Yhonny Perez and Vic Darchinyan. Against Vic, he earned a split decision despite getting knocked down in the second round and a point deducted in the fourth. As in his fight with Yhonny Perez, Mares showed toughness we didn't know he had. He boxed and brawled with both Perez and Darchinyan and in doing so, displayed dimensions his fans hoped for but had never witnessed.
At 31 it's hard to tell if Joseph Agbeko is peaking or just past it. This fight was supposed to take place earlier this year in Los Angeles. But Agbeko hurt his back and the fight had to be postponed until this weekend at the Hard Rock Hotel in Las Vegas, NV. For a lot of people, that signaled that Agbeko would lose this fight when it happened. Age, ring wear, whatever the case might be, finding someone picking Agbeko to win is hard to do these days.
Bad back or not, Agbeko is still an awkward fighter who is going to be all over Mares. At the same time, Mares is a young man approaching his prime but possessing the kind of amateur background and skills to beat anyone at 118.
Who will come out on top? It was hard to say when this fight was first announced and it still is. I am thinking Mares pulls it out. He has speed, is about the same size and can box and brawl. Agbeko can be outworked as seen in the Perez loss. I think Mares is fresher, smarter in the ring, and will use his angles to get off combinations all night off a piston jab.
Anything can happen in this fight. I don't think an early knockout in the cards. Agbeko has 22 knockouts in 28 wins and two losses while Mares has 13 knockouts in 21 wins, no losses and one draw. If any fighter from Ghana in recent memory reminds me of Azumah Nelson with his awkward, original style, it's Nelson. Mares may not fight like Sanchez but he has the same ability, at least as far as we can tell, that Salvador had in that he can box and brawl when needed. Mares, most importantly, knows when to do one or the other.
Between the two men and the two styles, is it possible we get a knockdown, drag out classic like Sanchez/Nelson?
---