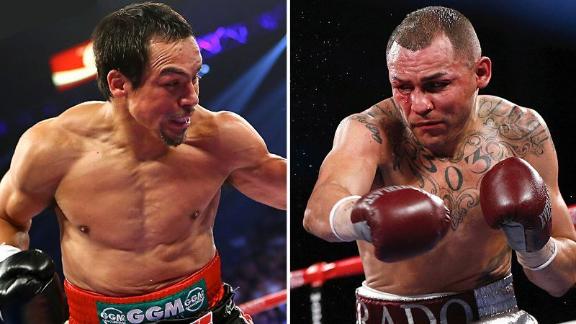 Usually after a twelve round fight the future for the two fighters involved are changed.  Tomorrow night when Juan Manuel Marquez faces Mike Alvarado at the newly renovated Forum in Inglewood, California, the result will actually affect a third fighter as well.  Filipino star Manny Pacquiao waits anxiously for the winner since Bob Arum of Top Rank, his promoter, has announced that the "Pacman" will face the man whose hand gets raised next in the fall.
Since that fateful night back in December when Marquez landed a perfectly placed right hand in the closing seconds of the sixth round of his fourth fight against Pacquiao, Juan Manuel has been adamant that he is not interested in a fifth fight against the Filipino.  After his win over Pacquiao, Marquez lost a split decision to Timothy Bradley nearly a year later in search of that elusive fifth title in as many divisions when they fought for the WBO welterweight title.  As far as Manny, he has actually picked up two win, a lopsided beating of Brandon Rios back in November of last year in China and in a rematch against Timothy Bradley, a clear unanimous decision as well as that aforementioned WBO title.  Both men have taken separate roads since that night but now it all points that they will soon meet again.
Unless Alvarado has anything to say about it.
A couple of months before Marquez's knockout of Pacquiao, Alvarado was coming off a seventh round TKO loss to Brandon Rios in one of the best fights of 2012.  He redeemed himself five months later beating Rios with a much smarter fought unanimous decision.  During that fight he captured the interim WBO junior welterweight title which later was promoted to the full-fledged version.  In October of last year Alvarado was pummeled into submission in his hometown of Denver by tough as nails Ruslan Provodnikov.  Now he finds himself a fight away from the biggest payday of his career.
Since Pacquiao's performance in his last fight against Bradley, Marquez has quickly changed his tune and not only has praised Manny but now says he would be open to a fifth fight.
Why?
Because now Pacquiao holds that WBO title that Marquez so much wants.  Marquez at forty years of age has much more to lose than the thirty-three year old Alvarado. With a loss, Alvarado can still fight on since he would be losing to a fighter that is universally considered a more talented one.  With a Marquez loss, it can almost be assured that we have seen the last of Marquez inside a ring.  Not only would he lose the Pacquiao fight but it will be the first time that in his career that he loses two in a row.
Not only is the triumphant return of the legendary Forum on the line tomorrow night but also the schedule for HBO and Top Rank at least for the month of November when Pacquiao is expected to make his return.
---