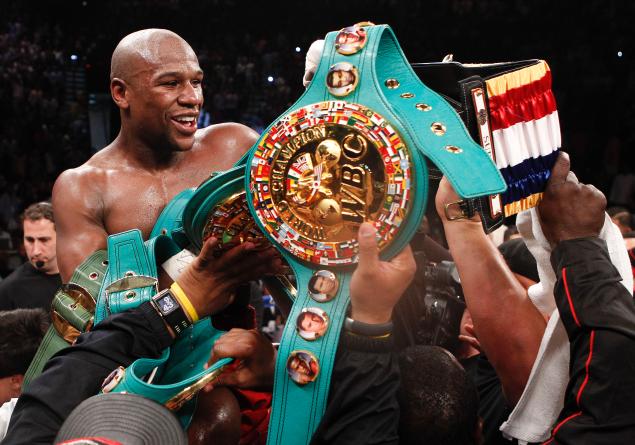 With all the titles, records and other feats the pound for pound king Floyd "Money" Mayweather Jr has achieved in boxing, he has never done what many think is the ultimate attainment for any fighter, unifying the division.  During a forty-five fight and nearly twenty year career, Mayweather Jr has only come close to collecting the four major belts once.  In his last fight against Mexican superstar Saul "Canelo" Alvarez, Mayweather Jr easily picked up two; the WBC and WBA super welterweight titles, via a controversial majority decision last September.  Controversial only because judge CJ Ross inexplicably saw the one-sided fight as a draw.
On Saturday night Mayweather Jr will put his WBC welterweight title on the line against Marcos "Chino" Maidana's WBA title.  With what looks to be a sure win, as of press time he was an 11-1 favorite, he would once again be the owner of two of the four major titles of the division.  Mayweather Jr has mentioned that his days as a prizefighter are numbered.  Once he reaches the end of his multi-million dollar six-fight contract with Showtime, he will be more than ready walk away from his career inside the ring.  After the Maidana fight, that leaves three more fights.  With two more wins after Saturday night, Mayweather Jr would become the undisputed king of 147-pounds, defend the crowns once and then ride into the sunset.
If the current champions would stay as is, one fight is easily made and the other would be the fight that the boxing public has been clamoring for at least six years.
The IBF champion is undefeated Shawn Porter.  Porter captured the title in December of last year with a somewhat surprise win over St. Louis' Devon Alexander. Just last month Porter defended his title successfully for the first time against veteran Paulie Malignaggi.  Porter dropped Malignaggi a couple of times en route to a fourth round TKO win and quite possibly retired the two-divisional world champ.  A fight between the two, one that many say has to happen before Mayweather Jr retires, is one that can easily be made since both are advised by the influential boxing hermit Al Haymon.  Porter has an aggressive tv-friendly style and with at least one more high profile win before September, the fall month Mayweather is expected to have his next fight, there is no reason why it shouldn't happen.
The last piece of the puzzle is much, much more difficult.
The current WBO champion is none other than one Emmanuel "Manny" Pacquiao.  Casual and hardcore fans alike all know the obstacles that Mayweather Jr, Pacquiao, Top Rank's Bob Arum, Golden Boy's Richard Schaefer and all those in-between have put up so that this much anticipated fight doesn't happen.
Recently Mayweather Jr has been touting the "TBE" moniker which stands for "The Best Ever".  For him to truly claim that distinction in boxing history, he must unify a division.   Not many have done it before him and no matter what has happened in their careers, Tyson, Hopkins, Spinks, among others, they can always stake that claim.
Maybe, just maybe, with a win on Saturday and one over Porter, that missing piece held by the Filipino congressman is enough to let bygones be bygones and have Mayweather Jr make that fight.
---