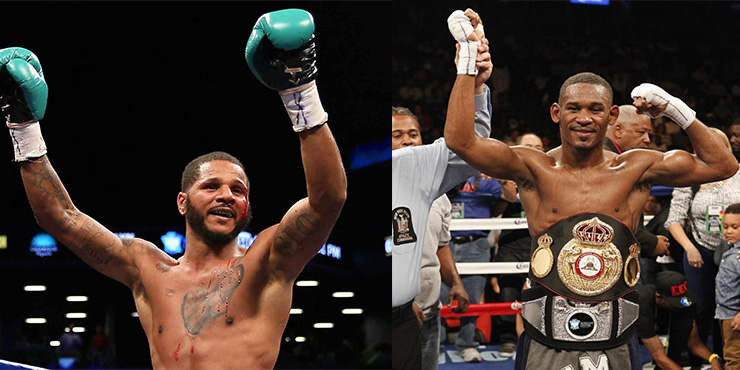 WBC Super middleweight champion Andre Dirrell   (27-0-1, 22 KOs) & WBA middleweight champion Daniel Jacobs  (28-1, 25 KOs) will both be defending their world titles in separate bouts April 24th at the UIC Pavilion in Chicago, Illinois. Dirrell will take on Badou Jack  (18-1-1, 12 KOs) while Jacobs will fight Caleb Truax (25-1-1,15 KOs). The show will be a part of Al Haymon's Premier Boxing Champions (PBC) and aired on Spike TV.
Both Dirrell & Jacobs are advised by powerful boxing advisor Al Haymon. However, this not the only thing the pair have in common. Each have survived the much dreaded cancer. In 2007 Dirrell was diagnosed with Non-Hodgkin Lymphoma. He would undergo nearly a year of chemotherapy prior to returning to the ring in 2008. After 6 years of racking up victories Dirrell had his crowning achievement in his last fight in August where he defeated WBC world champion Sakio Bika. The two had met previously the year before with the bout ending in a draw. Giving his health situation it was clearly thought that his brother Andre would surely win a world title before Anthony would. This was not that case as Andre is still in pursuit and actually scheduled for a world title fight later this year.
Jacobs was a very accomplished and decorated amateur. He turned pro in 2007 and would go on to win his first 20 professional fights. He entered the vacant WBO word title bout vs. fellow unbeaten Dmitry Pirog as a solid favorite in 2010. The action was being controlled by Jacobs until Pirog landed a counter over hand right that sent Jacobs on his back. The referee opted not to count and waved the bout off. The loss would be devastating to Jacobs but pale in comparison to his next fight.  In 2011 he was diagnosed with a a life-threatening form of bone cancer named osteosarcoma. Jacobs was said to have had surgery and several radiation treatments from  which he would then be declared cancer free. He made his ring return in October 2012 scoring a 1st TKO over  (13-1 ) Josh Luteran. Jacobs would reel off 4 more wins and then got his chance once again at a world title on August 9th, 2014. This time Jacobs would be fighting at home in his native Brooklyn, New York at the Barclays Center. Jacobs would go on to score a 5th round TKO over Australian Jarrell Fletcher for the vacant WBA middleweight title.
The stories of both Dirrell & Jacobs really puts life into perspective. The number of professional fighters who go on to become world champions is quite small in comparison to those who don't. The fact that both of these young men were able to achieve such lofty goals under their circumstances is just mind boggling. Regardless of what each of them does from here on out in the ring they are already undisputed champions in life.
---