Boxing History: August 10, 1963 Dick Tiger KO 7 Gene Fullmer, Ibadan, Nigeria. Retains World Middleweight Title.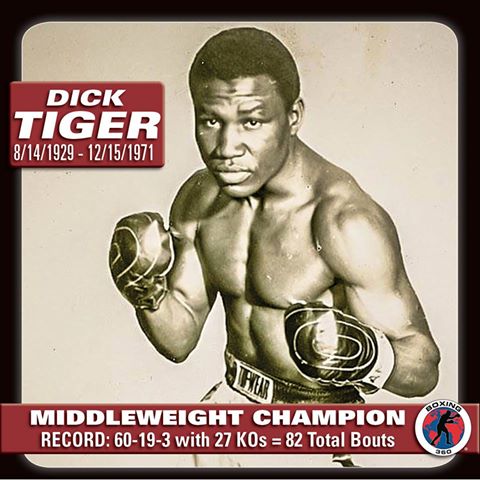 Dick Tiger CBE (born Richard Ihetu August 14, 1929 – December 14, 1971) was a boxer from Ubahu village, Amaigbo, Nigeria, who emigrated to Liverpool and later to the United States of America.
Dick Tiger was one of the greatest fighters to come out of Africa. He became a two-time undisputed world middleweight titlist and helped keep boxing alive during the 1950s boxing industry recession. Tiger earned an undisputed Light-Heavyweight world championship. In 1962, Tiger won the world middleweight boxing championship.
Tiger was an "in-house fighter" at New York City's Madison Square Garden.
After retiring from boxing, Tiger worked as a guard at the Metropolitan Museum of Art in New York. One day, he felt a strong pain in his back. Tested by doctors, he was diagnosed with liver cancer. Tiger had been banned by the Nigerian government in his country because of his involvement in the Biafran movement; however, the ban was lifted immediately after news about his condition arrived in Nigeria.
The Ring Magazine Fighter of the Year for 1962 and 1965.
Inducted into the International Boxing Hall of Fame in 1991.
Appeared as a guest on an episode of the American television series "What's My Line?" The panel correctly guessed his occupation.
During the Nigerian civil war, Tiger supported the Biafran secession. He received a direct commission as a Lieutenant into the Morale Corps of the rebel Army of Biafra.
He died of liver cancer on December 14, 1971; he was 42 years old
August 10, 1963, Dick Tiger knocks out Gene Fullmer in the 7th, Ibadan, Nigeria. Tiger retains World Middleweight Title. PART 3 (rounds 6-7)
---