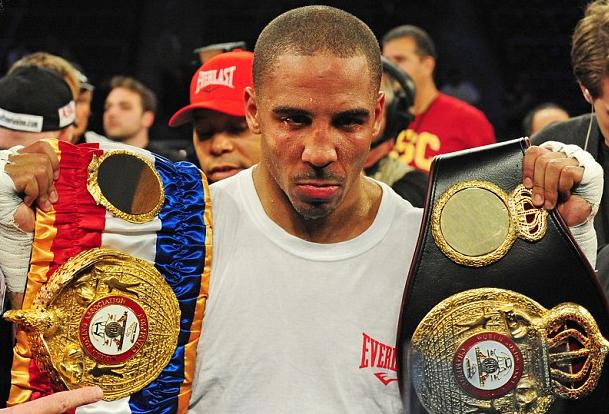 It was recently announced that WBA Super World Super Middleweight and Ring Magazine champion of the world Andre Ward will make his long awaited return to the ring. Ward has not fought since November of 2013 after sitting out all of 2014 with a promotional contractual dispute. Ward has recently signed with new upstart promotional company Rocnation which is headed by famed rapper and business mogul Jay-Z. Ward's return date is said to be June 20th in his native Oakland with an opponent to be announced soon.
Ward has seen some of his best performances happen in Oakland. It was there in November 2009 that he won his first world title decisively decisioning Mikell Kessler. The fight was the opening round of the Super Six World Boxing Classic tournament by Showtime television network. Even though he was fighting at home Ward entered the fight as an underdog for the first time in his pro career. The win over Kessler in essence launched Ward's career to the next level.  Nearly three years later at the same location Ward completely dominated boxing's number one Light heavyweight Chad Dawson. Even though the fight was fought at 168 pounds Dawson still was the naturally bigger man and had a five-and-a-half-inch advantage in reach. Ward nullfied all of that dropping Dawson in rounds 3, 4 & 10. Ward would go on to earn the 10th round TKO victory becoming the first to stop Dawson.
Ward made it clear after signing with Rocnation that he would be stay in the 168 pound weight class. There are still some respectable names in the division. Former world champion and Canada based Lucian Bute is one of those such names. George Groves of the UK is another that could be of interest down the road. Ironically both of those fighters were stopped by Ward rival Carl Froch.  Which speaking of is one name that can be ruled out with almost certainly not to be fighting Ward this coming June on Ward's home turf. The WBA had recently mandated the two sides come to an agreement or that the fight would go to purse bid. Both fighters have pretty much made it known publicly that neither will bend where the other will dictate terms. Speculation is that Ward is more interested in getting back in the ring and getting some much needed activity for his upcoming fight date .
---