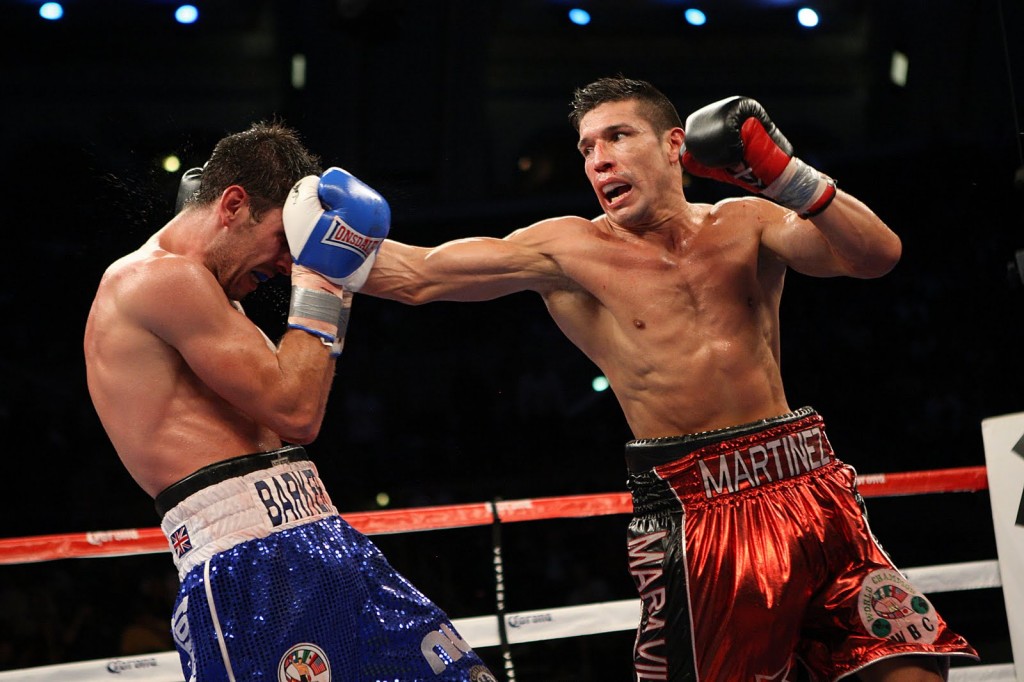 Sergio Gabriel "Maravilla" Martinez was not supposed to be a world class fighter.  It is common knowledge within the sport that to develop the skills and reflexes to truly be successful in professional boxing, one must start learning the craft at a very young age.  The Argentina-born Spain-based Martinez didn't come to boxing until just after his teenage years and already an adult at the age of twenty.  Martinez was an athlete though excelling locally as a cyclist and a soccer player.  Despite starting to box at such a late age Martinez still went on to become a world champion in the super welterweight and middleweight divisions and just recently losing his title at 160 pounds to Puerto Rican Miguel Cotto.
For a time Martinez was considered one of the best pound for pound fighters in the world.  With wins over other champions like Paul Williams, Serhiy Dzinziruk, Darren Barker, Matthew Macklin, Martin Murray and Julio Cesar Garcia Jr.  The brutal second round knockout of Williams and the dominating win over Julio Cesar Chavez Jr is what really put Martinez on the map well into his thirties.  After his fight with Murray, a unanimous decision on a rainy Argentinean night, Martinez took a long medical hiatus after suffering injuries to his right eye, a broken left hand and a bad gash over his left eye.
After an arduous rehabilitation Martinez came back for his fight in fourteen months and put his WBC middleweight title on the line against Miguel Cotto back in June of this year.  It was hardly a fight as Martinez on a wounded knee went down three times in the first and received a count in the ninth.  With the bum knee Martinez was never able to put his offense in gear.  Known as a mobile fighter that uses his movement for much of his offense, he was just able to pull it together and gave up his title at the Madison Square Garden in possibly the worst performance of his career.
There has been great speculation if the thirty-nine year old Martinez would be able or even interested in coming back after that performance.  Now Martinez has come out of the shadows and said that if his knee permits, he would like to do one more fight before he retires next year.  After his loss to Cotto, Martinez once again went under a battery of tests to decide if he would be able to continue to fight.
He was told that he might need another operation on his knee to reinforce it.  Martinez has gone public that if that is the case, he would retire.  What Martinez is hoping for is a another rehabilitation plan that although long and difficult, according to him, he would be willing to endure to come back and fight one more time to erase the bad taste of his last loss from his and the public's mouth.
Martinez is not willing to risk his future though as he understand that for boxing he might have seen better days but for a human being, he has a lot of life left.  Martinez is a budding promoter and is expected to expand that role in his life outside the ring.
---