Boxing History: January 14, 1944 Jake LaMotta W 10 Fritzie Zivic, Detroit.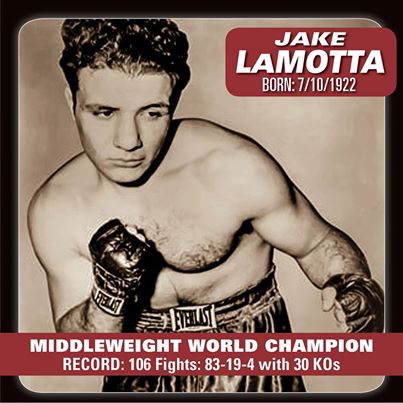 Referee: Sam Hennessey.
Scoring: 6-3-1, 8-2, 8-2. Zivic was hurt in the 7th and 8th. LaMotta lost the 2nd and 4th rounds on low blows.
Lamatta's Record: 106 Fights: 83-19-4 with 30 KOs
Born: Giacobbe LaMotta better known as Jake LaMotta, nicknamed "The Bronx Bull" and "The Raging Bull", is an American former world middleweight champion boxer who was famously portrayed by Robert De Niro in the film Raging Bull. LaMotta was born on the lower east side of Manhattan on July 10th, 1922 at 1st Ave. and 10th street to parents of italian heritage. He was forced by his father into fighting other children to entertain neighborhood adults, who threw pocket change into the ring. LaMotta's father collected the money and used it to help pay the rent. In 1941, at the age of 19, LaMotta turned professional.
LaMotta, who compiled a record of 83 wins, 19 losses and four draws with 30 wins by way of knockout, was the first man to beat Sugar Ray Robinson, knocking him down in the first round of their first fight and then out pointing him over the course of 10 rounds during the second fight of their legendary six-bout rivalry.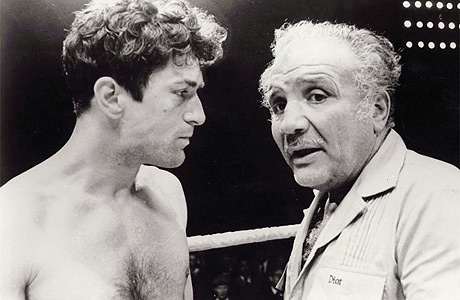 Robert De Niro in training with the real Jake LaMotta
---