Boxing History: Beau Jack KO 3 Tippy Larkin, NYC. Wins vacant New York World Lightweight Title.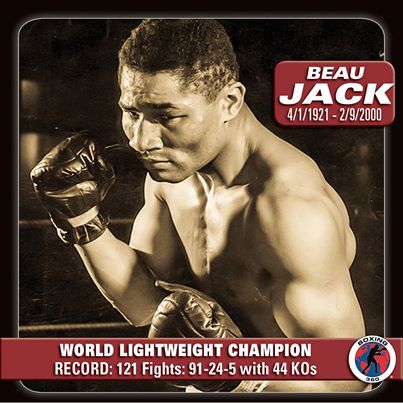 Sidney Walker, better known as Beau Jack, (April 1, 1921 – February 9, 2000), was an American lightweight boxer, he was a world champion twice. One of the most popular fighters during the war years, he headlined at Madison Square Garden on 21 occasions, a record that still stands. Beau Jack was ferocious, punched nonstop and used his strength to become a real brawler.
Beau Jack was a nickname given to him by his tough old granny. He was born with the name Sidney Walker on April 1, 1921. He grew into a tough kid and with no formal training knew how to handle himself. It happens that way sometimes, half the secret of winning a fight is having no fear, the other half is knowing what to do.
Beau Jack was always a huge favorite with the crowds in New York. He was good for the gate and that was what Madison Square Garden was interested in.
Beau had always been an aggressive fighter and he took a lot of headshots over the years. He suffered from "Pugilistic Parkinson's Syndrome." It's the same disease that Joe Louis, Muhammad Ali, and trainer Freddie Roach were diagnosed with. In our politically correct world, PPS is the term for this disease. To an old head like me, we just called these guys "punchy." Seems to make more sense, since it was too many punches to the head that made them that way. I think we play too many word games today. No one is blind, deaf or crippled anymore. They all seem to be "challenged" in some way.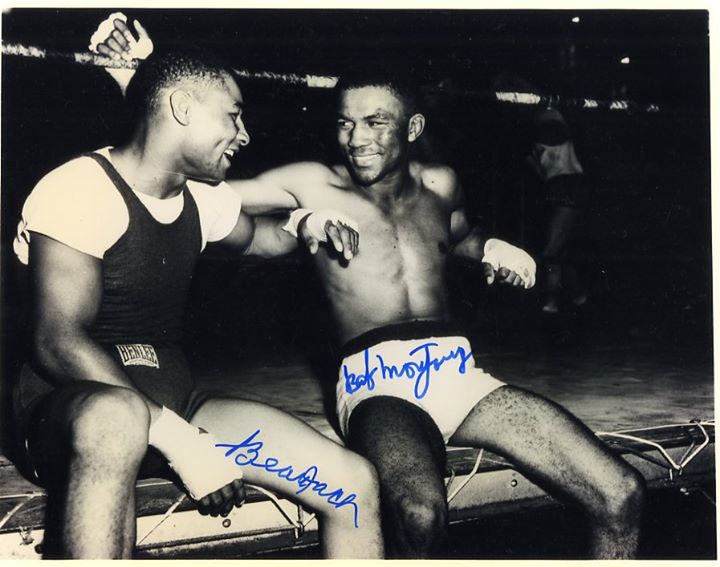 Beau Jack (born Sidney Walker, 1921-2000) was a two-time world champion lightweight boxer regarding as one of the best and most popular fighters of the 1940s. Jack began fighting in unregulated amateur bouts as a teenager while also working as a caddy at the Augusta National Golf Club. Among those he met at the course was golf legend Bobby Jones, who befriended Jack and encouraged him to pursue a career in the ring. Jack joined the professional ranks in 1940 and quickly established himself as a powerhouse. By 1941, he faced Tippy Larkin and knocked him out to win the win the NYSAC World Lightweight Championship title. Although Jack lost the crown in a 15-round unanimous decision to Bob Montgomery in May 1943, he regained it in another 15-round unanimous decision six months later. On March 3, 1944, the pair met for a third title bout, with Beau losing in a 15-round split decision. Perhaps the most famous meeting the two men … and of Beau Jack's career … came in August 1944 in what is now known as the "War Bonds" fight. Jack and Montgomery — who were both serving in the U.S. Army at the time — agreed to fight to raise money in support of U.S. armed forces in World War II. Jack won the non-title bout by a 10-round majority decision, but more importantly, it raised an astonishing $35 million. In 1948, he was unsuccessful in trying to recapture his title from Ike Williams. Jack retired following his last fight in 1955, taking with him a 91-24-5 professional record. (He also holds the record — 21 — for most headline fights at Madison Square Garden). He was inducted into the International Boxing Hall of Fame in 1991.
---