Boxing History: July 29, 1941 Freddie Cochrane W 15 Fritzie Zivic, Newark, NJ. Wins world welterweight title.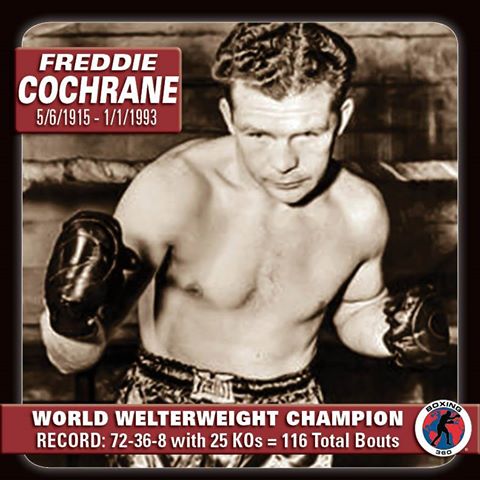 Freddie 'Red' Cochrane (born May 6, 1915 in Elizabeth, New Jersey, United States, and died January 1, 1993), was a professional boxer in the welterweight (147lb) division who became World Champion in 1941 in that class. Cochrane was a resident of Union, New Jersey at the time of his death.
Cochrane was a scrapper who had a good start to his career, then hit an up-down period; After a couple of years, he peaked again and was at his best during 1940-1941; At this time, he won the Welterweight Championship of the World.
He won the title on July 29, 1941 in a hard fought contest with Zivic at the Old Bears Stadium in Newark. "Red", was the first World's Champion to enlist in the Armed Services, that was in 1941, after winning the Welterweight Championship. He served in the United states Navy during World War II. He was also the second one from Elizabeth, NJ to become the Welterweight Champion of the World.
Freddie defeated such men as Fritzie Zivic, Lew Jenkins, Jack "Kid" Berg, Johnny Jadick, Maxie Fisher, Pete Lello, Tommy Spiegel and Mickey Cohen
Although Freddie claims Fritzie Zivic was his best opponent he was in the squared circle with a lot of good boys such as
Rocky Graziano and Lou Ambers.
Red Cochran died in 1993 at age 77 of Alzheimer's disease. In June 1997, Ring magazine ran an interview with an elderly man who claimed to be Cochran. Cochran's daughter promptly sued.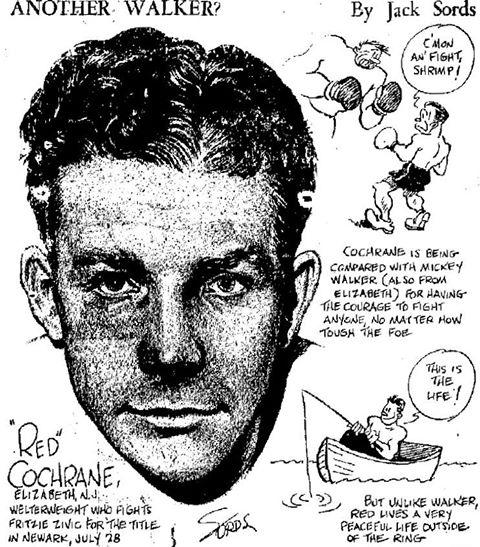 Cheered on by a crowd of 10,000 spectators, Freddie "Red" Cochrane became one of the most unlikely welterweight champions when he out-battled Fritzie Zivic over 15 rough and tumble rounds at Ruppert Stadium in Newark. The fight, decided solely on the card of Referee Joe Mangold, had the underdog from nearby Elizabeth, a winner by a score of 7-4-4. The result even surprised the new champion's father, who said during the post-fight celebrations, "Who'd a thought this was gonna happen?"
Cochrane, who entered the bout sporting a record that included 31 losses in 101 fights, beat Zivic at his own game, outfighting the champion at close quarters, while matching Zivic's unsavory tactics with a few of his own. Zivic mounted a late charge, and managed to cut Cochrane in the twelfth and stagger him a couple times in the fourteenth round, though the hometown favorite was never in danger of being stopped and responded by driving Zivic back into the ropes with his own rally.
When asked to explain what happened, Zivic said that he simply struggled to get going early and blamed his form on a busy schedule that had seen him already fight twice earlier in the month.
Cochrane was excited and also modest in victory. While a mob of well-wishers and semi-hysterical friends and fans flocked around his dressing room, Red, who was born just four houses on Bond Street from the home of Mickey Walker, said "I always knew I could beat Zivic if I got the chance." That was the extent of his victory speech.
---