Boxing History: October 15, 1910: World Middleweight Champion Stanley Ketchel, 24, is shot to death by Walter A. Dipley. At the Missouri ranch, where Ketchel was relaxing after numerous bouts; both Ketchel and Dipley were amorously infatuated with kitchen cook, Goldie Smith. This led to Dipley shooting Ketchel in the back while eating breakfast.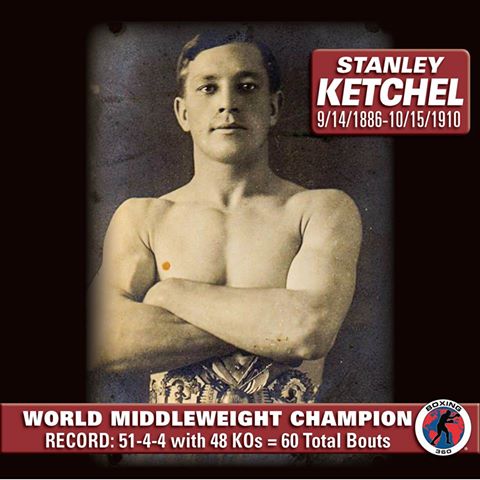 Both Walter Dipley and Goldie Smith were found guilty of murder and robbery at a jury trial in January 1911 and both were given a life sentence. Goldie Smith had her murder conviction overturned and she served 17 months for the robbery. Walter Dipley served 23 years before he was paroled. He died in 1956, 22 years after his release from prison.
Ketchel was buried at Holy Cross Cemetery at Grand Rapids, Michigan. His funeral was the most attended until the Ford family surpassed him during the 20th century. There is a plaque in his honor at the corner of Stocking Ave and 3rd St.
Ketchel is now enshrined in the International Boxing Hall Of Fame.
The Ring Magazine in 2004 ranked Ketchel as the eighth greatest middleweight of all time, behind Harry Greb, Sugar Ray Robinson, Carlos Monzon, Marvin Hagler, Jake LaMotta, Charley Burley and Tiger Flowers.[8]
In 2004, Ring magazine named Ketchel #6 on their list, 100 Best Punchers of All Time.
Nat Fleischer, the late ring historian and founding editor of The Ring magazine, considered Stanley to be the greatest middleweight in history.
He had a record of 51 wins, four losses, four draws, 1 no contest and four no decisions (Newspaper Decisions: 2-1-1), with 48 wins by knockout. He was the first Middleweight Champion to regain the world title after losing it.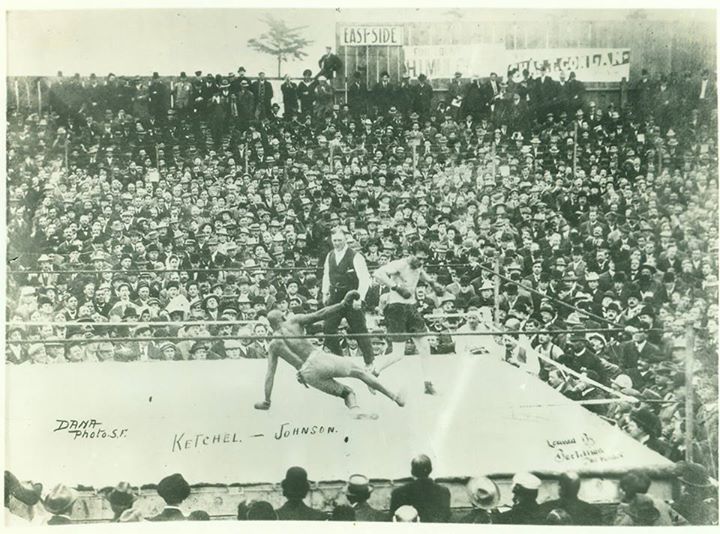 This 1909 bout against Middleweight Champion Stanley Ketchel started off as a presumed exhibition match, but turned ugly in the 12th round when Ketchel lashed out with a right to the head, knocking Johnson off his feet. The enraged Johnson leapt up and delivered a knockout blow, deploying an uppercut so ferocious that Ketchel's teeth stuck to his glove.
---