Boxing History: October 28, 1938 John Henry Lewis KO 4 Emilio Martinez, Minneapolis. Retains World Light Heavyweight Title.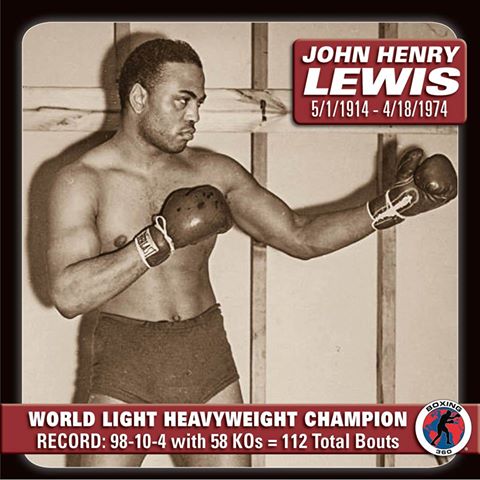 John Henry Lewis held the World Light Heavyweight championship from 1935 to 1939. He was the first black American to win the light heavyweight championship, a title he held for four years. And as with many light heavyweights, Lewis often fought larger heavyweights to gain more attention and bigger purses. Lewis was not the first fighter in his family. His great-great uncle was Tom Molineaux, an early bare knuckle heavyweight who traveled to England to challenge for the title.
Born in California, Lewis moved to Arizona when his father got a job as trainer for the University of Arizona athletic teams. Lewis's father also opened a gym in Phoenix. At a very early age, Lewis and his brother Christy were put to work at the gym, fighting "midget boxing" exhibitions. Later, the Lewises toured the Southwest in such exhibitions. Given this early training, Lewis was well-prepared to turn professional at the age of fourteen as a welterweight.
Lewis possessed all of the attributes of a great boxer. He had the speed of a welterweight, was aggressive, skilled at defense, and a master puncher. The lack of financial reward was a problem, however. In 1939, Lewis signed for a heavyweight title fight against his friend, Joe Louis. Although it was not widely known, Lewis was almost blind in one eye and had been for some years. Joe Louis gave his friend a chance for a big payday before the eye problem forced him to retire. Louis made short work of the challenger, knocking him out in one round. This fight was the only knockout Lewis suffered in 112 fights. Lewis retired after this defeat.
Lewis was managed by a gambler and racketeer of the 1930s: Gus Greenlee, a man who became very important to baseball's Negro Leagues as a commissioner and team owner.
Lewis had a record of 98 wins, 10 losses and 4 draws, with 58 wins by knockout. His 58 knockout wins makes him a member of boxing's exclusive club of winners by knockout 50 or more times.
Lewis is a member of the International Boxing Hall of Fame.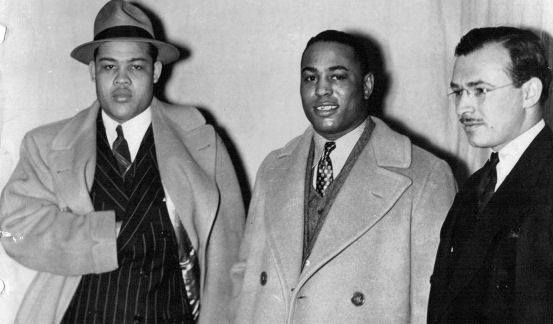 Joe Louis (heavyweight champion),John Henry Lewis (light heavyweight champion) with Joe Tucker before their fight in New York, 1938.
---