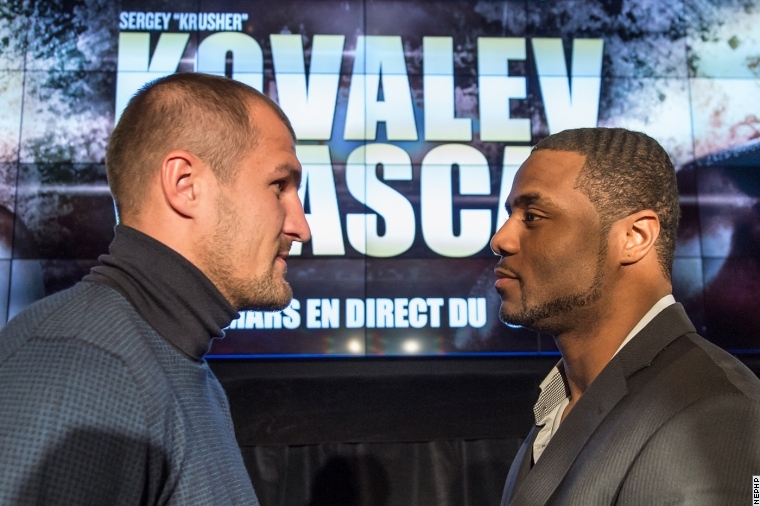 Former WBC Light heavyweight champion of the world Jean Pascal (29-2-1, 17KOs) has a tall order in front of him March 14th. He will challenge unified world Light heavyweight champion Sergey Kovalev(26-0-1, 23KOs). The bout will be held at the Bell Centre in Montreal, Quebec, Canada where Pascal will be the hometown fan favorite. Kovalev's WBA Super, IBF, and WBO World light heavyweight titles will all be on the line.
Some odds have Kovalev as a huge favorite at -650.  This seems quite a wide margin being that the +475 underdog Pascal is fighting in his own backyard.  Pascal is also a former world champion who has fought and defeated the same level of competition on par with that of Kovalev. The pair share a common opponent in future hall of famer Bernard Hopkins.  Pascal had two fights with Hopkins. Their first fight ended in a draw.  Pascal managed to drop Hopkins twice in that  bout. Something that had not been done to Hopkins in 16 years .  In their rematch he lost a close decision to Hopkins. Kovalev completely dominated Hopkins in their lone encounter this past November. Kovalev dropped Hopkins in round one and Hopkins appeared to be more interested in surviving the rest of the fight rather than mounting any serious offensive attack that would put him at any risk of being dropped again. To his credit Hopkins did make a valiant stand in the last minute of the bout.
Kovalev was already known for his power prior to the Hopkins fight. The dimension he displayed that many hadn't previously seen was his tactical patient side. After dropping Hopkins in round one he didn't go for broke trying to get him out of there. He knew it was a flash knockdown and that Hopkins was not hurt. He stayed on his game plan and actually outfoxed Hopkins who usually is the one frustrating his opponents. He also showed that he has power from rounds 1 thru 12 as he almost had Hopkins out on his feet in the final seconds of round 12. Pascal will bring a different type of task to the table for Kovalev as he has both fast hands, quick feet, and respectable power. Not the same type of power as Kovalev but he can land punches that you don't see coming which can lead to knockdowns as was the case in the first Hopkins fight.
The knock on Pascal for years has been his fading in the second half of fights. It cost him for sure the first fight with Hopkins. Fading would be extremely dangerous against someone like Kovalev who would be waiting to take advantage.  Kovalev is the top dog at 175 and deservingly so. He has earned that right in the ring. Pascal will have to put together his career best effort to pull off the upset. The more he can keep Kovalev on the defensive the better off he will be.  Tough task but not impossible. Pascal is fighting at home, has his hero Roy Jones Jr. working his corner and most importantly he has the physical tools needed.  Emotions will be running high for sure.  Which can work in his favor or the exact opposite.
---