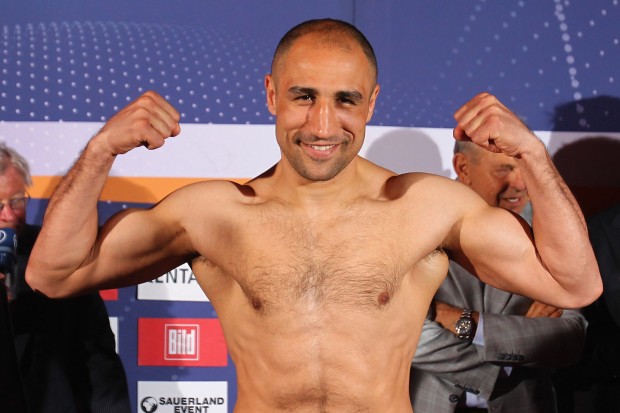 German-based WBO Super middleweight champion of the world Arthur Abraham (41-4,  28KOs) will have a rematch with Paul Smith (35-4,  20KOs) of the UK this Saturday. The 12 round main event will take place at the O2 World Arena, Kreuzberg, in Berlin, Germany. The venue has been the site of Abraham's career best wins. His 12th round TKO over Jermain Taylor in 2009 and winning his WBO Super middleweight title over Robert Stieglitz in their first fight in 2012.     .
Regardless of how he would win this rematch Abraham won't be able to top either of the above mentioned feats.  The main reason is that many are surprised the first fight was close enough that a rematch would be warranted. That's just how much it was perceived entering the first fight that Smith would be no challenge at all for Abraham. Smith had other plans. He brought it the entire fight from round 1 thru 12. Even so. This doesn't mean he was winning the majority of the rounds by a longshot.  Especially in Germany. A review of the first fight will show Smith following Abraham around for the most of the fight and throwing a lot of punches. However, he wasn't cleanly landing many of them as Abraham caught alot of the punches with his renown high guard defense.  Abraham chose to stick and move and was landing with his jab. Smith to his credit showed a fair defense as well. Abraham would  open up in spurts and go after Smith with power shots but Smith took the best Abraham had. Smith almost always responded by throwing back though not always landing. The fact that Smith was coming forward most of the fight and not being hurt made the fight appear much closer.
Abraham has talked a lot about erasing any doubt this time around and stopping Smith inside the distance. This is interesting for the following reason.  Since moving up to 168 pounds Abraham clearly has not brought the power with him that he had at 160. In fact in his 15 fights since leaving the 160 pound division he has scored just 4 stoppages. Three of those stoppages were against mostly unknowns to the mainstream and even hardcore fans.   The other was against Taylor who like himself was moving up from the middleweight division and he stopped him in the 12th and final round. This is not to say Smith is a high profile name as he isn't even in his native UK. This is more to say that he did prove he could take Abraham's best over 12 rounds.
Some sports books again have Abraham as a huge favorite at -650 to the underdog Smith at +475 . Those odds seem accurate since Abraham will again be fighting at home and can improve on his work rate from the first fight in route to a more decisive victory.   Add to that Smith doesn't pack a big punch and seemed to fight his absolute best in that first fight.   Neither guy was able to seriously hurt the other when they did land clean. Which makes it interesting that the odds are favoring the fight won't go the 12 round distance. Barring a cut or injury this fight seems like it would once again go 12 rounds. There is absolutely no pressure on Smith. This clearly lies with Abraham. Him losing to Smith would be a major setback in his career.   Whether Abraham wins by decision or knockout it won't mean much to many or do much for his stock rising at 168 pounds. Again the majority thought  that Abraham was supposed to win this fight easily the first time around. So doing so this time is even more expected.
---