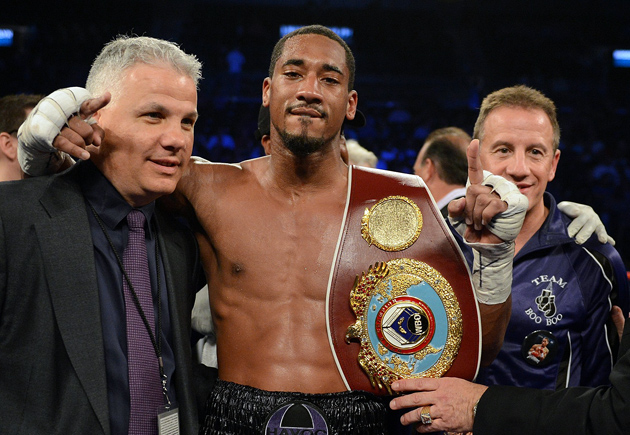 Unbeaten WBO Super welterweight champion Demetrius Andrade (21-0, 14KOs) is one of the top guys in his division yet his name is rarely brought up. His recent verbal battles on the social media networks with fellow world champion Erislandy Lara have been about the most attention he has had in regards to boxing in quite a while. Apparently the two have history from their amateur days were Lara defeated Andrade. Both have hinted at wanting to fight each other in a unification bout  but as of yet nothing has officially developed.
Andrade was highly touted prior to turning pro in 2008 as a former Olympian. He actually defeated current unbeaten WBA welterweight champion Keith Thurman at the 2008 Olympic trials. In the end he signed with Star Boxing and Banner Promotions. Andrade was kept busy and by his 20th fight he fought for the vacant WBO 154 pound world title. This would be his first attempt at a world title. In November 2013 he overcame a first round knockdown to go on to win a split decision over former 2004 Olympian Vanes Martirosyan. Seven months later he would make the first defense of his crown  against Brian Rose of the UK. Rose had won an eliminator in his previous fight to earn his shot at Andrade. Andrade was heavily favored entering the fight and quickly proved why. He had Rose down in rounds 1 & 3 in route to his 7th round TKO victory.
Andrade at this point seemed destined for a big fight.  It's closing in on nearly a year since the Rose fight and nothing is scheduled as of yet for Andrade.  Andrade publicly called out former world champion Saul Alvarez to no avail. This without a doubt is the most lucrative fight out there for him. Timing probably has hurt him more than anything in pursuing that fight. At the time that Andrade had won his world title Alvarez already had a comeback fight scheduled against Alfredo Angulo following his loss to Pound for Pound King Floyd Mayweather Jr. Alvarez would go on to fight Lara within a month of Andrade's fight with Rose. Where Andrade had an easy time with Rose it was not the same for Alvarez who had all he could handle with Lara who he beat by a close split decision.
Alvarez has never been one to avoid a tough challenge. He was actually advised against the Lara fight but he wanted to fight who was considered the top guy after him in the division and that was Lara. Alvarez would then set his sights on WBC Middleweight Champion Miguel Cotto. This was a much bigger fight for him than against Andrade. The fight eventually fell through but instead of going after the champion Andrade it would be power punching world ranked challenger James Kirkland who would get the call instead. Many reasons for that selection. Alvarez is a big enough name now that he doesn't need a world title involved for his fights.  In fact his last three fights now will not have had world titles involved. Kirkland will not have fought for a year and 5 months once the bell rings for his fight with Alvarez. Lastly Kirkland though a southpaw is not slick at all as he comes straight forward which is ideal for Alvarez.   Andrade's style could be another reason why he is not on team Alvarez' priority list. He like Lara is a slick southpaw and he is actually taller than Lara. Andrade is on the outside looking in for now but he needs to become more active and remain a world champion. It is becoming quite obvious that even with his world title it hasn't guaranteed him the elusive big fight. Without it those odds could go from slim to none.
---