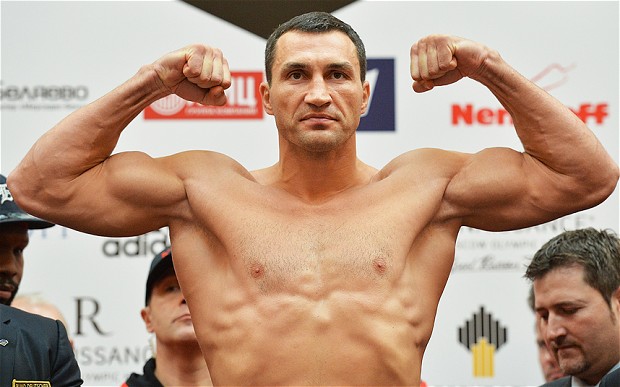 No matter what Al Haymon says about newly crowned WBC heavyweight champion Deontay "Bronze Bomber" Wilder, the true king of the heavyweights, thirty-nine year old Wladimir "Dr. Steelhammer" Klitschko, is finally coming back stateside, at least to fight inside a ring, on Saturday, April 25th, at the mecca of boxing Madison Square Garden against American Bryant Jennings.  The scheduled twelve-round fight for all the marbles, the WBA, WBO, IBF, IBO heavyweight titles, will be televised live by HBO.  It will mark the first time the Ukrainian 6'6" Klitschko fights at a venue on this side of the pond since February of 2008 when he went the distance against Sultan Ibragimov.
Since then Klitschko has made his home in the eastern end of Europe, mainly fighting out of Germany while making inroads into Switzerland and Russia.  Along with his retired brother, Vitali, Wladimir for a time was a staple on HBO's airwaves until the tough opponents, at least in the eyes of the network, dried up.  Since his last fight in New York, Klitschko has only been showcased on the channel a handful of times and none of them during primetime but rather on tape delay from Europe while the live fight was during the afternoon in the United States.
It is safe to guess that since the changes coming to HBO with the flight of some of their major talent under the Haymon banner, HBO needed to look for new and not sot new talent to feature on their airwaves.  Kovalev, Canelo and Golovkin are good and dandy but Klitschko is a friendly face that many fight fans are familiar with.
The fact that he just had his first child with American actress Hayden Panettiere can't hurt either.
The main concern for HBO and many fight fans was that Klitschko was just so darn dominating.  Ever since his last loss back in 2004 to Lamont Brewster, Klitschko has really taken advantage of his height and sheer size advantage over the majority of his opponents but also his great neutralizer, a very stiff jab.  His fights have followed a usual pattern of jabbing his opponents to death for the first half and once they hypnotized by his left hand, finishing them off with an even harder right hand.  Even after Klitschko dispatching some formidable foes in Samuel Peter twice, Chris Byrd, Calvin Brock, Lamont Brewster, Hasim Rahman, Ruslan Chagaev, David Haye, Tony Thompson and Alexander Povetkin since his last loss, most of these fights have not been all that exciting.
HBO is banking on the fact that the undefeated Jennings might change.  At thirty and 6'3", Jennings is nine years fresher and only three inches shorter than "Dr. Steelhammer" but he might be worlds apart in experience.  You see, Jennings only has nineteen fights under his belt compared to the sixty-six Klitschko has participated on.  Besides that, Jennings has never faced anybody nearly as good as Klitschko with his toughest opponent being the Cuban Mike Perez who he defeated in his last fight via a unanimous decision.
Or could this just be HBO's attempt to in a way re-introduce Klitschko to the American public in hopes of facing him against Wilder?  Does that fit in Haymon's plans?
---