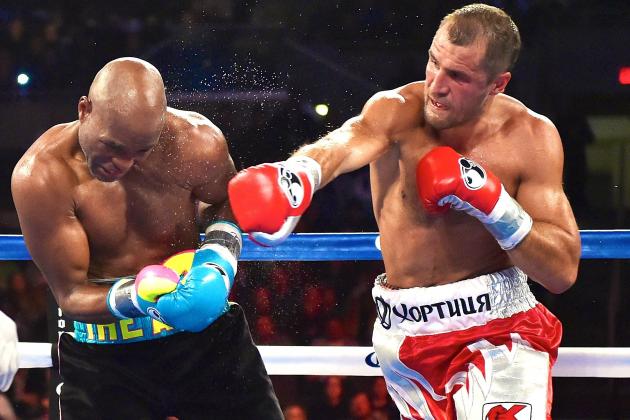 The crowd of nearly ten thousand were expecting history on Saturday night at the Boardwalk Hall in Atlantic City and over 1.3M live on HBO but instead they got the most logical result for a fight that came down to a thirty-one year old fighter against a forty-nine year one.  Sergey Kovalev went ahead and unified three out of the four belts in the light heavyweight division with a lopsided twelve round decision over Bernard Hopkins.  The scores were 120-107 twice and 120-106.
Hopkins came in with the IBF and WBA straps while Kovalev put up his WBO belt in the contest.  Enough has been said of Hopkins impressive career than began in 1988.  After unifying the middleweight division Hopkins not only defeated all his challengers but so far also father time as he as kept fighting and wining well into his late forties.  Hopkins captured the WBC light heavyweight belt back in 2010 but lost it to Chad Dawson three fights later in 2012.  His latest run began a year later when he defeated Tarvoris Cloud for the IBF title at 175 pounds.  Earlier this year he added the WBA strap with a split decision over Beibut Shumenov as well as the IBA title.
Kovalev captured the WBA title by stopping Brit Nathan Cleverly in four rounds.  Kovalev defended the title three times prior to facing Hopkins by knocking out Ismayl Sillah, Cedric Agnew and Blake Caparello in that order.
Despite boxing fans and experts expecting somewhat of a technical and hard to watch contest, or in other words, a typical recent Hopkins fight, there was an overwhelming interest for the fight.  The general consensus was that Hopkins in his old age was much braver than many fighters, some of them champions, half his age as he was willing to face who many consider the best light heavyweight in the world but one of the hardest punchers in the sport.  Before the fight Kovalev had won nine fights in a row by stoppage and had never gone past eight rounds.
Early on it looked like finally time had caught up with Hopkins, who is two months away from his fiftieth birthday, as a short counter right hand near the top of the head sent him to the canvas in the first.  Hopkins shook himself off and then proceeded to not risk for the next eleven rounds.  Kovalev out boxed Hopkins instead of out brawling him and was able to control the action with a well-educated jab.  By the second half of the fight the fight followed a pattern of Kovalev throwing punches and Hopkins not really doing much but trying to not get hit but not really doing much in return.  It was no surprise when Kovalev at the end was announced the winner.
Kovalev announced after the fight that he had some unfinished business in the division and would like to unify the weight category.  Standing in his way is the WBC champion Adonis Stevenson.  As far as Hopkins, surprisingly did not announce his retirement but instead said he wanted to fight one more time in 2015 and would like to face a champion, perhaps in the 160 or 168 pound division.
Amazing.
---