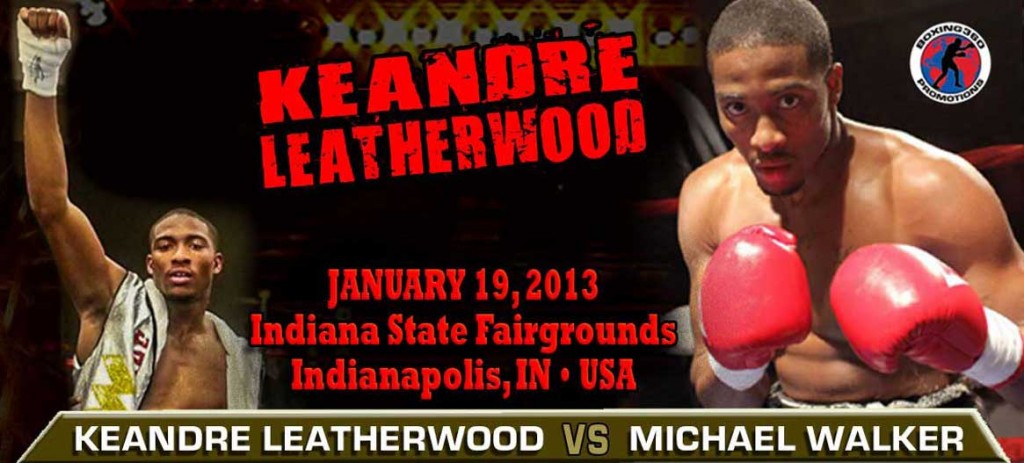 Junior middleweight prospect Keandre "Lightning" Leatherwood (12-1-1, 8 KOs) will step back into the ring Saturday January 19th against Chicago native Michael Walker in a scheduled 8 rounder on a card being held at the Indiana State Fairgrounds in Indianapolis, Indiana.
Leatherwood fights out of Atlanta Georgia, but he was born in Tuscaloosa, Alabama where he helped Olympian and fellow Tuscaloosa born fighter Deontay Wilder in the early stages of his amateur career.  Leatherwood had a standout amateur career in his own right with 120 amateur bouts and appearances in the National Junior Olympics and International Junior Olympics.
Leatherwood has never been passed 6 rounds as he heads into his first scheduled 8 round fight, but after his last victory — a 6 round unanimous decision over Marcos Primera — he was insistent on taking the next step in his career.  As a puncher-boxer, Leatherwood lives up to his nickname "Lightning" with some of the quickest hands in the division.  It's not just about the speed in his hands; it's the way he puts his punches together that adds to his game changing quickness.  Leatherwood's quick hands allow him to neutralize his opponent's best attributes and that adds to his ability to adapt in the middle of a fight. He possesses the kind of dynamic style that allows him hit without being hit, but he isn't afraid of mixing it up either. After finishing 2012 on a high note with 3 straight victories Leatherwood is eager to stay busy and tally more victories on his resume with the help of Boxing 360 promoter Mario Yagobi.
"Laying back isn't my style, I think fans will identify with me because I look to make fights with my opponents and fans can expect me to be aggressive in a scientific way," Leatherwood said. "I don't want to rush things, but we have plans to move up the ladder with each and every outing and Mario knows I'm always ready to go.  I believe as a fighter my priority is winning, but I also have a responsibility to entertain and I know how to accomplish both simultaneously."
"The 154lb division is one of the best in boxing and it's filled with deep and compelling matchups, I think Keandre is up for the challenge of becoming one of boxing's best," Yagobi said. "What I love about Keandre is he can make a fight exciting on sheer talent alone, but we've matched him up well for this fight and I think fans will be treated to a special night of action.  Keandre already has world class hand speed and as long as we continue down the current path we will undoubtedly be fighting for a significant title soon."
---