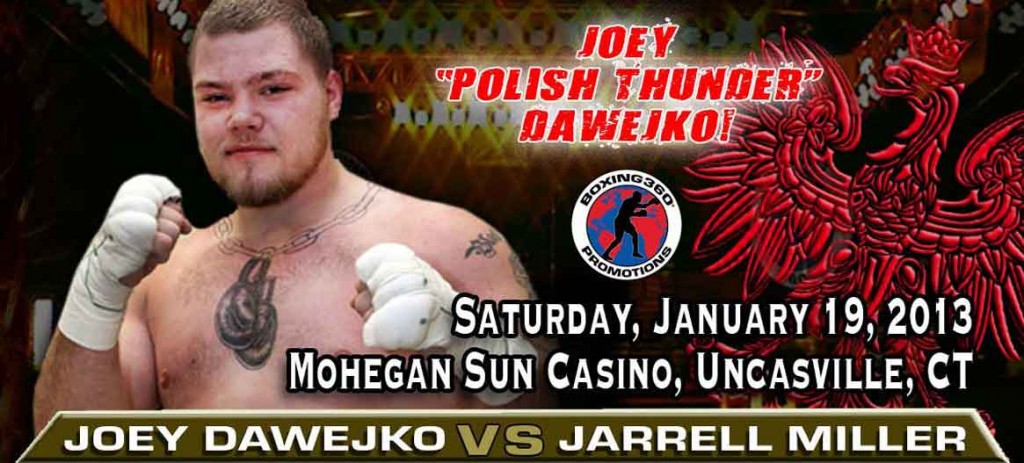 Heavyweight prospect Joey DaWejko from Philadelphia will step back in the ring against Jarrell Miller on Saturday January 19th. The fight will take place at the Mohegan Sun Casino in Uncasville, Connecticut.  For DaWejko, this will be his second consecutive fight against an undefeated fighter.
 DaWejko (7-1-1, 3 KOs) embodies the very essence of a Philadelphia fighter and isn't afraid to take on the tough opposition.  He had a stellar amateur career, especially as a junior.  Labeled a small heavyweight, DaWejko stands 5'10" and uses his smaller frame to his advantage with a crafty style that complements his ability to be more agile than his usually bigger opponents.  DaWejko has fought bigger men his entire career and he thrives off of the challenge of overcoming the size disadvantage with a combination of speed and power.
Miller (4-0, 4 KOs) has won all of his professional bouts by TKO and DaWejko will look to utilize the power he possesses in both hands in order to neutralize his opponent's strength.  DaWejko knows how important it is to rebound from his last outing and suggests that placing too much emphasis on a single loss isn't a productive response to a slight setback.
"Some people take a loss but that isn't what defines a fighter, what defines a fighter is how he responds from the adversity he's faced with," DaWejko said. "I'm just anxious to prove what kind of fighter I am and to show my ability as a heavyweight.  I feel like I can bring something to the division that's my very own and no one else's.  I make it a point to try and get the most out of my in-ring experiences and I plan on giving a good performance on January 19th."
DaWejko's promoter Mario Yagobi of Boxing 360 Promotions believes DaWejko has a bright future in the heavyweight division.
"DaWejko brings a lot of heart, skill and determination to the ring," Yagobi said. "Believe me when I say that he possesses all the qualities of a big man in regards to his will and determination, but he also packs a heavyweight punch.  The fact that he can out maneuver the bigger men with crafty and agile footwork makes Joey a unique fighter.  Boxing 360 is excited to have him in our stable of fighters and it won't be long until he is one of Philly's most treasured fighters."
---