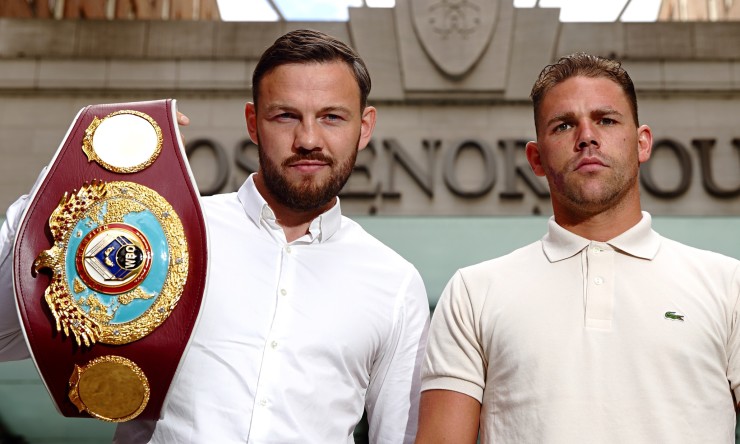 WBO middleweight world champion Andy Lee (34-2-1, 24KOs) will face his #1 mandatory unbeaten challenger Billy Joe Saunders (22-0, 12KOs) this Saturday. The main event will take place at the Manchester Arena (formerly M.E.N Arena), Manchester, Lancashire in the United Kingdom. The bout will air on Showtime extreme in the United States. The show will be promoted by Frank Warren.
To say this matchup has been a long time coming is an understatement. It all started when Lee upset unbeaten Matt Korobov about a year ago to win the vacant WBO middleweight world title. His mandatory was to be Saunders in his next fight. Then an agreement was reached for Saunders to step aside so Lee could defend against former world champion Peter Quillin. Lee entered the fight a clear underdog as he fought Quillin in the latter's hometown. Lee did more than just hold his own and fought Quillin to a draw. Lee retained his title so it was now on to his showdown with Saunders. That was the plan at least. They were scheduled to fight in September and then in October put postponements by both fighters prevented that from happening.
It finally looks like they will square off this Saturday once and for all. It is a very intriguing matchup. Both guys are southpaws so there will be no disadvantage for either there. Lee on paper and in results clearly is the heavier handed of the two. This is not to say Saunders cannot hurt Lee. Saunders appears to hit a bit harder than his knockout percentage shows. Lee has not always shown the steadiest of chins though his resiliency is at a very high level. The oddsmakers almost have this as an even fight. This seems fairly accurate for this particular matchup. It has all the makings of a lengthy match with good two way action. The fans could end up being the biggest winners of all after Saturday night's bout ends.
---