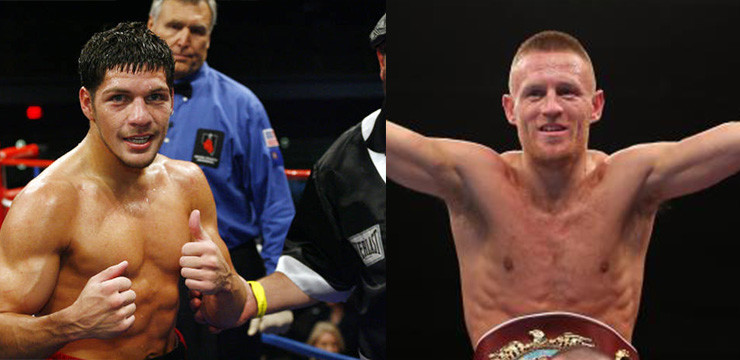 We went with the world title fight between IBF super featherweight champion Jose Pedraza (21-0, 12 KOs) and former world title challenger Edner Cherry (34-7-2, 19 KOs) this past Saturday night. The bout was aired on Showtime Championship boxing. The early going seemed like it would be another decisive win for the unbeaten Pedraza. This would all change when  Cherry hurt Pedraza and the complexion of the fight changed. Pedraza then switched to southpaw which Cherry was never fully able to adjust too. In the end Pedraza won by split decision. Our current win streak continued as we selected Pedraza to win.
This week we are going with the fight between WBO lightweight champion Terry Flanagan (28-0, 11KOs) of the United Kingdom and mandatory and former world title challenger Diego Magdeleno (28-1, 12KOs) of Las Vegas, Nevada . The 12 round main event will take place in Flanagan's native Manchester,  England this Saturday. Flanagan won his world title in his last fight against unbeaten Jose Zepeda of Mexico. Zepeda injured his shoulder in round 2 and was unable to answer the bell for round 3. Magdeleno beat a very good Jose Gonzalez of Puerto Rico in his last fight which was a world title eliminator.
The matchup between Flanagan and Magdeleno is a very intriguing one. Both fighters are southpaws and neither is known for their knockout percentage. Each guy seemed to be very physically strong in their last outings. Flanagan will enter the fight with a height advantage of more than 3 inches should he decide to use that. The home crowd advantage will be major for Flanagan as a capacity crowd is expected. Magdeleno is perceived as a serious threat to Flanagan and some sportsbooks odds reflect that. Flanagan is a slight favorite at -155 over Magdeleno who is +135. Flanagan has been fighting at 135 a bit longer than Magdeleno. In a fight that seems so close on paper the slightest edge can make a difference. We are going to go with Flanagan to win and look to extend our current win streak.
Disclaimer: Boxing360's Pick of the week is strictly for entertainment purposes only
---