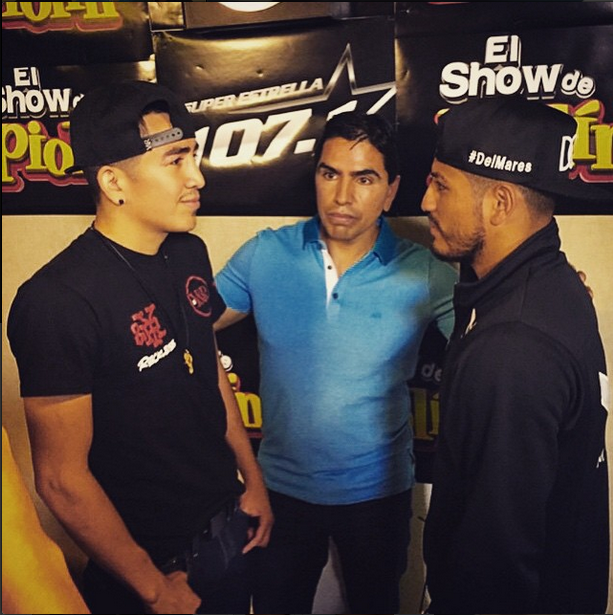 Earlier this week on a very popular Spanish-language radio station based out of Los Angeles, WBC super-bantamweight champion Leo Santa Cruz and former three-divisional champion Abner Mares once again met face to face.  No, they weren't announcing an upcoming fight between the two but merely just sharing with the boxing world, and possibly with their mutual advisor Al Haymon, that they would be more than happy to face each other in the immediate future.  This is not the first time that a fight between the two has been talked about; in fact, it is one of the most talked about possible fights in recent years.
When it was announced that Leo Santa Cruz was scheduled to perform in the semi-main event of the Mayweather Jr-Pacquiao mega fight slated for May 2nd in Las Vegas, Mares did not hesitate to raise his hand and say he was willing to face him even though it would have given him three weeks to get ready.  During the aforementioned dual interview Santa Cruz dismissed the challenge from Mares stating that he would want Mares to have more time to get ready so they can give a great fight to the fans as well as for Mares not to have any excuses once he loses.
The question here is, is this fight past its expiration date?
Granted, after five years of speculating, begging and demanding by the boxing world we finally have Mayweather Jr vs Pacquiao but Santa Cruz and Mares are not the world-wide super stars that the first two are.  On paper, the Santa Cruz vs Mares fight is a great one whenever it happens but it says here that it would have had a bigger impact on the fighter's careers a couple of years ago than later this summer.
When Santa Cruz first burst onto the scene, he really was el "Terremoto" or earthquake as his nickname says.  Back in 2012 when Santa Cruz fought five times, he looked spectacular in each one of those fights except the last one against Alberto Guevara.  In that, he looked flat but it was chalked up to fatigue.  It was understood that he was still building into a super star and that is why his opponents were all that tough.  The bad news is that his opposition hasn't really gotten any better except for Victor Terrazas, who Santa Cruz stopped in three to capture the title he holds.  Now his start is not climbing as quickly as it once was.
That same year, Mares was riding high, on a hot streak and still undefeated coming off wins over Vic Darchinyan and Joseph Agbeko in the previous years, Mares, like Santa Cruz, was touted as one of the best rising stars in boxing.  All that came crashing down in August of 2013 when a left hook by Jhonny Gonzalez stopped Mares and his rise in their tracks.
The perfect time for this fight should have been in early 2013.  Both fighters were undefeated and the darling of the boxing world's eye.  Neither has looked spectacular in recent fights.  From their comments in the interview, looks like they are trying to cash out but Mares did state he didn't need this fight, that he wanted to give it to the fans.
Sounds like he does need it… Santa Cruz too.
---