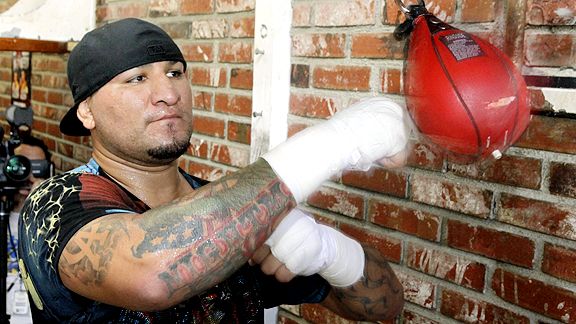 With 2013 winding down and the new gearing up, here is a list of the top five fights that we would like to see in the next twelve months.  The list includes bouts that are makeable, no going against the aisle and matching up a Top Rank vs. Golden Boy or HBO vs. Showtime.  We also include our prediction of what we think would be the outcome of the proposed fight.  In no particular order:
Julio Cesar Chavez Jr. vs. Carl Froch – With Chavez Jr coming in well above the middleweight limit in his last fight against Brian Vera last September, it is only logical that he will be going up in weight.  The next division up is the 168 lbs. limit where Froch has made his living.  The king of the division is Andre Ward but with their particular styles, Chavez Jr-Ward does not look like a great fight on paper but one between these two tough guys does.  Both are aggressive and prideful and with enough gaps in defense and skill to make this a brawl.  A pre-Groves Froch would have beaten Chavez Jr easy but now with some visible weaknesses exposed on the "Cobra", now it seems a bit more competitive.  Chavez Jr first must get past Brian Vera in their rematch in March.Prediction:Despite Froch landing plenty and often early on, see Chavez Jr surviving the storm and stopping the much older Froch late with an accumulation of punches.
Floyd Mayweather Jr vs. Marcos Maidana–With is recent drubbing of Adrien Broner, Maidana unequivocally has made himself the most logical next opponent for the pound for pound king.  Unfortunately for him and us boxing fans, at this point the Golden Boy Promotions machine is in too deep with Amir Khan who is believed to be the next victim for Mayweather Jr.  Expect this fight to happen in September as long as Maidana defeats his next opponent, which he should since it is expected for him to take a stay busy to not risk the fight.  Prediction:  Maidana showed improvement in his raw and rugged style since joining Robert Garcia.  A puncher/boxer, Maidana should make it interesting against "Money" early on but just like the rest, he will get shut down by the skill, speed and technique of Mayweather Jr.  Maidana should give a better fight than Guerrero, Alvarez and Khan though.
Mikey Garcia vs. Yuriorkis Gamboa – Garcia just seems unbeatable. On his way capturing titles at featherweight and super featherweight, Garcia has faced the likes of Orlando Salido, "Rocky" Martinez and Juan Manuel Lopez among others.  The similarities between all are that they tended to stand in front of Garcia and look to exchange with Garcia.  Gamboa's style would be much different than any Garcia has faced as a pro.  The fact that Gamboa has been campaigning at lightweight and Garcia would be going up in weight might be an advantage for the Cuban.  Gamboa has fought since June so it would be in his best interest to get in some action before facing Garcia.  Garcia will defend his title against Juan Carlos Burgos near the end of January.  Prediction:Gamboa will make it interesting with his movement and quickness but Garcia would eventually catch up with his technique and take over the action and stop the Cuban by impressive knock out.
Leo Santa Cruz vs. Abner Mares – This is one that has been mentioned for a quite some time but as of now both fighters look to be on different paths but eventually they must meet in what has all the makings for an all-out war.  Both are aggressive, come forward fighters that throw punches in bunches.  Mares was stopped in his last fight by heavy-handed Jhonny Gonzalez but with the fight more than likely at the featherweight limit, Santa Cruz probably will not carry enough power to hurt Mares.  Mares has a rematch with Gonzalez in February and must survive that first.  He has stated he might want to move up to 130 lbs. and Santa Cruz said he would like to finish off 2014 at 122 lbs but with no other viable opponents for them in their respective weight classes, be sure that Golden Boy Promotions will soon offer them the mega-fight.  Prediction:Mares should be able to take the close unanimous decision with his experience, high punch output and advantage in size but on his way there, Santa Cruz should give him a hell of a time.
Chris Arreola vs. Deontay Wilder – Arreola will have a chance for the second time to make history.  Early in 2014 Arreola will face Bermane Stiverne for the WBC heavyweight title.  With a win in the rematch, Arreola would become the first fighter of Mexican descent to capture the title for the heaviest division.  Arreola tried once before against Vitali Klitschko but fell short.  Not that with Stiverne will be an easier since earlier this year the Haitian broke his nose en route to beating him.  Since then Arreola has re-focused in his career and has looked good especially in stopping Seth Mitchell in one.  Wilder is ranked #3 in the WBC and more than likely will be the first defense for whoever captures the vacant title.  Wilder, the last American to medal at the Olympics, is known for very heavy hands with thirty wins, all by KO.  Prediction:Despite his power and bronze medal, Wilder has not shown much skill.  Arreola has been boxing since before puberty so he has the advantage in skill and talent.  Arreola should survive Wilder's puncher and once he does that, he will take the tall and lanky fighter to school.
---