Boxing History: August 2, 1980 Thomas "Hitman" Hearns KO 2 Pipino Cuevas, Detroit. Wins WBA Welterweight Title.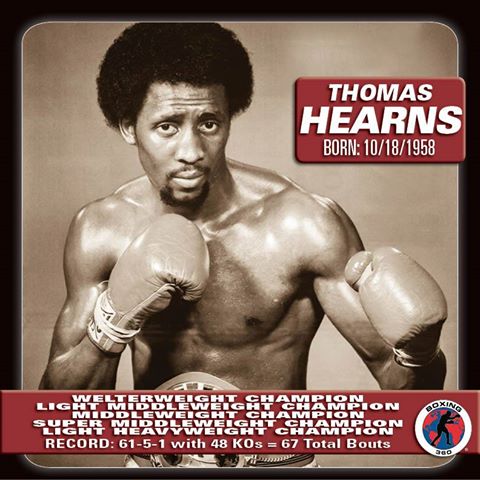 Dubbed "World War II", this bout was fought on August 2nd, 1980. Cuevas had dominated the Welterweight division for the past 4 years, reigning as champion. Hearns was undefeated, bringing his 28-0 record into the fight. Hearns defeated Cuevas by TKO in the 2nd round to win his first of 6 titles and went on to win "Fighter of the Year" by Ring Magazine in 1980. After his career had ended, in an interview Hearns was asked what was his greatest moment and his response was "Winning all those titles were great moments for me. But winning the first title was the greatest moment. When I received the belt after that fight, I knew I beat a great man, Pipino Cuevas, a legend.
Thomas "Hitman" Hearns was born on October 18, 1958 and is a legendary boxer who won eight world titles in six different weight divisions. Nicknamed the "Motor City Cobra" and more famously "Hitman". Hearns became the first boxer in history to win world titles in four divisions, then become the first fighter in history to win five world titles in five different divisions.
Major World Titles:
WBA Welterweight Champion (147 lbs)
WBC Light Middleweight Champion (154 lbs)
WBC Middleweight Champion (160 lbs)
WBO Super Middleweight Champion (168 lbs)
WBA Light Heavyweight Champion (175 lbs)
Named The Ring Magazine "Fighter of the Year" for 1980 and 1984.
Named the Boxing Writers Association of America "Fighter of the Year" for 1980 and 1984.
Named the greatest junior middleweight of all-time by The Ring Magazine in 1994.
Inducted into the International Boxing Hall of Fame in 2012.
Best known for his fights with Sugar Ray Leonard, Marvin Hagler and Roberto Durán.
In 1981, Hearns the WBA Champion, with a 32-0 record (30 KOs), fought WBC Champion Sugar Ray Leonard (30-1) to unify the World Welterweight Championship in a bout dubbed "The Showdown." In this legendary fight, Hearns suffered his first professional defeat when Leonard stopped him in the 14th round after being down by 3 points in the 13th round. Hearns and Leonard banked a combined 17 million dollars for the fight, making it the largest purse in sports history.
---