Boxing History: December 13, 2003 Bernard Hopkins W 12 William Joppy, Atlantic City. Hopkins retains World Middleweight Title.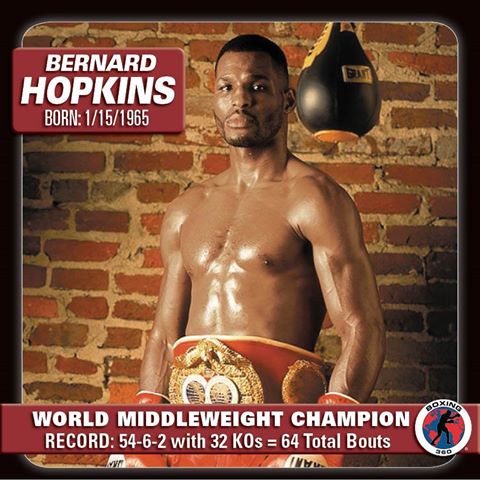 Against the former world titlist, Hopkins would break the CompuBox Middleweight record for total landed power punches (375) en route to a one-sided unanimous decision victory.
Longest reign as World Middleweight Champion (10 years, 2 months, and 17 days), surpassing Tommy Ryan.
Most title defenses as World Middleweight Champion (20), surpassing Carlos Monzon.
Oldest fighter ever to hold the World Middleweight Championship (40 years, 6 months, and 1 day), surpassing Sugar Ray Robinson.
Became the oldest fighter ever to win a world championship (48 years, 1 month, and 22 days) when he defeated Tavoris Cloud to win the IBF Light Heavyweight Championship on March 9, 2013. He surpassed his own record (46 years, 4 months, and 6 days), which he set when he defeated Jean Pascal to win the WBC Light Heavyweight Championship on May 11, 2011. The previous record holder was George Foreman. Hopkins also became the oldest fighter ever to hold the World Light Heavyweight Championship, surpassing Archie Moore.
Bernard Humphrey Hopkins, Jr. "The Exicutioner" (born January 15, 1965) is an American boxer. Hopkins is most widely known for his career in the middleweight class, where he held at least a piece of the championship in that class from 1994 until 2005. Having held the International Boxing Federation's middleweight title first, he unified the titles of all three of boxing's major sanctioning bodies in 2001 by winning the World Boxing Association and World Boxing Council titles. In 2004 Hopkins, having added The Ring middleweight championship to his resume as well, became the first middleweight to have held all four of what are considered the major belts when he won the World Boxing Organization's championship from Oscar De La Hoya.
Having defended a world middleweight title a record 20 times before losing the title in 2005, he is considered one of the greatest middleweight champions of all time. The Ring ranked him #3 on their list of the "10 best middleweight title holders of the last 50 years."
After losing his title to Jermain Taylor in 2005 and failing to regain it in a rematch, Hopkins moved up in weight and began challenging for the light heavyweight championship. In his first fight in the class Hopkins won the International Boxing Organization and Ring titles from Antonio Tarver. Hopkins lost the Ring title to Joe Calzaghe in 2008, but later regained the belt in his second fight with Jean Pascal (after controversially drawing with him in their first fight). Hopkins also won Pascal's WBC title in the match.
In addition to being an active boxer, Hopkins is also a minority partner with Golden Boy Promotions.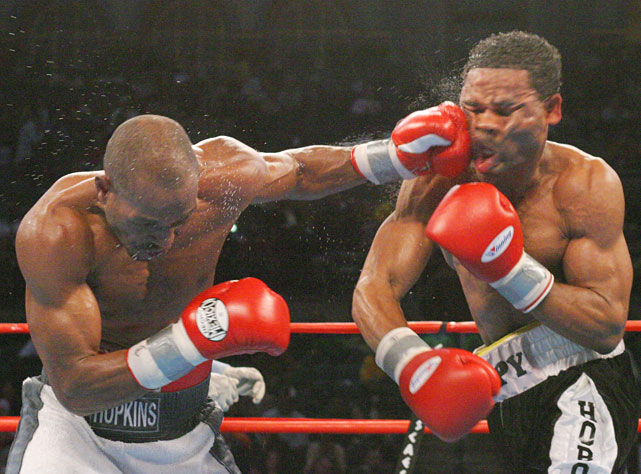 Bernard Hopkins lands a solid left on William Joppy, Atlantic City, December 13, 2003
---