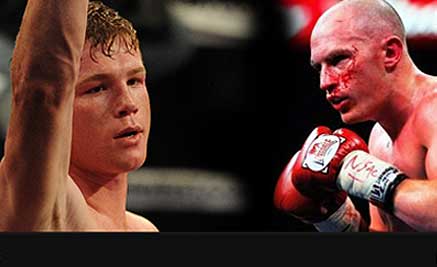 I hate to be a Monday morning corner man but c'mon, folks. If that red head wasn't, we'd be talking about someone else this morning. Whatever it is that draws in the fans to Canelo, I have to think it is not how great of a fighter he is.
Dude is kind of slow, his power is average, his technique is solid but his defense is not very good at all. There isn't pure speed or raw power or a supreme intelligence at work.
So what is it? Can being a redhead get you that far?
I guess in a world where getting a press pass makes you a writer, getting a promoter's license makes you a promoter, and getting a belt even if it means nothing, you are champion, being a red head who can kind of fight makes you a star.
Only in boxing.
The "Problem" with Adrien Broner is he is horribly boring.Is it me or do you have to wait to be winning dominantly before you showboat and do a spin move in front of your opponent. This is why I was pulling for Ponce De Leon. This was such bull to see a guy get a shot at a good fighter like Ponce De Leon on HBO and do nothing but bore people with it.
When will HBO learn to evaluate talent better?
Let me get this straight. Canelo had a powerless welterweight in front of him, Broner had a featherweight in front of him, and neither guy can get a knockout?
What happens when  they fight guys their size?
Now that is a problem
Lookit, I get the belts are needed. The fighters make more money, the networks can market you better as a champion than they can as anything else.
---