He hasn't said it yet but you know Saul "Canelo" Alvarez, possessor of the coveted WBC junior middleweight belt and all the drawing power his celebrity brings in Mexico and the U.S. is thinking "Who wants my this belt? Who wants a piece of 'Canelo"?
Since Paul Williams unfortunate accident, Canelo and his promoter, Golden Boy, have been looking for an opponent for his September 15 date on Showtime Pay-Per-View. They thought they had a good one in Victor Ortiz. But then this happened:
With Josesito Lopez not actually being a junior middleweight, the loss of Ortiz to a jaw broken in two places leaves the slate clear for September 15. The clear choices are as follows:
This would be a unification bout. Golden Boy CEO Richard Schaefer says he would like to do that with Canelo anyways this year. Should Bundrage defeat Cory Spinks this Saturday, he has a great chance of getting the fight. His style is awkward but he is certainly hittable for Canelo.
Rumors are that Trout is out as a Canelo opponent. He also has a strap but has publicly stated he wants VADA testing. Golden Boy had a contractual issue with them so that might be the deal breaker. Trout's style and relative obscurity might be the other reason he is out. He is a southpaw boxer who doesn't mind counter punching all night. Alvarez is good but Trout might be a tough assignment for him just now.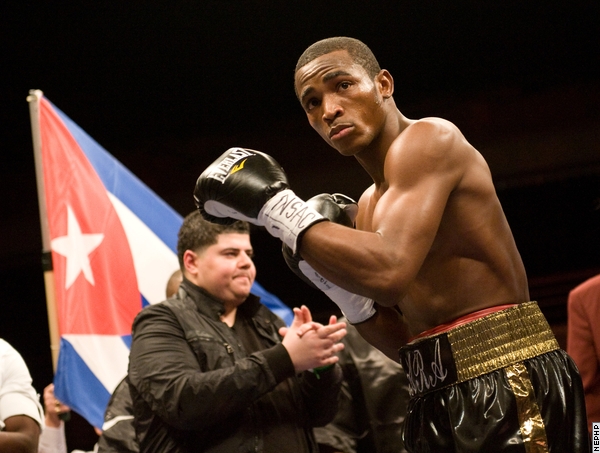 Erislandy Lara is the fan favorite choice so far. Lara is on a hot streak with the Paul Williams fight and a Ronald Hearns highlight reel knockout to his credit. He is fighting this Friday in a tune-up bout against Freddy Hernandez. Should he win, the Golden Boy promoted Cuban with a solid amateur pedigree and the pro chops to go with it should get the shot. His power and southpaw stance likely keeps him from it.
What is your choice, fight fans? Who fights Canelo? Who wins and why?
---