Boxing History: The Rumble in the Jungle took place on October 30, 1974 in Zaire. Muhammad Ali KOs then World Heavyweight Champion George Foreman in the 8th round to regain the title.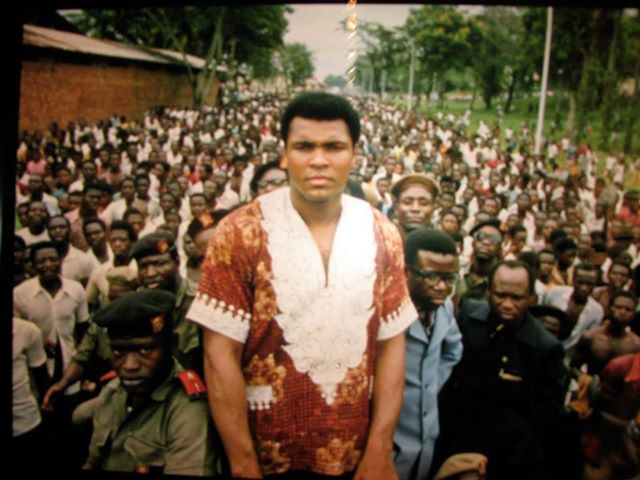 32-year-old Muhammad Ali becomes the heavyweight champion of the world for the second time when he knocks out 25-year-old champ George Foreman in Kinshasa, Zaire. Seven years before, Ali had lost his title when the government accused him of draft-dodging and the boxing commission took away his license. His victory in Zaire made him only the second dethroned champ in history to regain his belt.
The "Rumble in the Jungle" (named by promoter Don King, who'd initially tagged the bout "From the Slave Ship to the Championship!" until Zaire's president caught wind of the idea and ordered all the posters burned) was Africa's first heavyweight championship match. The government of the West African republic staged the event—its president, Mobutu Sese Seko, personally paid each of the fighters $5 million simply for showing up—in hopes that it would draw the world's attention to the country's enormous beauty and vast reserves of natural resources. Ali agreed. "I wanted to establish a relationship between American blacks and Africans," he wrote later. "The fight was about racial problems, Vietnam. All of that." He added: "The Rumble in the Jungle was a fight that made the whole country more conscious."
At 4:30 a.m. on October 30, 60,000 spectators gathered in the moonlight (organizers had timed the fight to overlap with prime time in the U.S.) at the outdoor Stade du 20 Mai to watch the fight. They were chanting "Ali, bomaye" ("Ali, kill him"). The ex-champ had been taunting Foreman for weeks, and the young boxer was eager to get going. When the bell rang, he began to pound Ali with his signature sledgehammer blows, but the older man simply backed himself up against the ropes and used his arms to block as many hits as he could. He was confident that he could wait Foreman out. (Ali's trainer later called this strategy the "rope-a-dope," because he was "a dope" for using it.)
By the fifth round, the youngster began to tire. His powerful punches became glances and taps. And in the eighth, like "a bee harassing a bear," as one Times reporter wrote, Ali peeled himself off the ropes and unleashed a barrage of quick punches that seemed to bewilder the exhausted Foreman. A hard left and chopping right caused the champ's weary legs to buckle, and he plopped down on the mat. The referee counted him out with just two seconds to go in the round.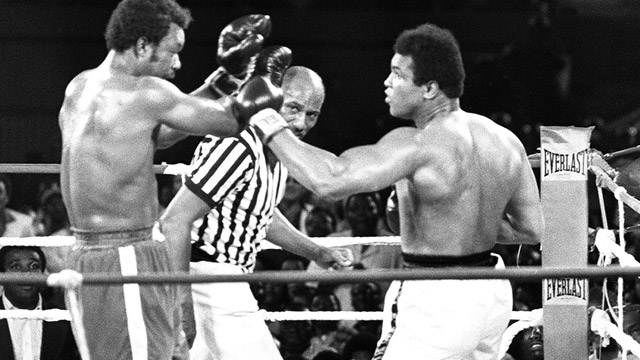 On October 30 1974, an underdog Ali bested George Forman and reclaimed his heavyweight champion belt at the hugely hyped "Rumble in the Jungle"! — with Bruce Winfield.
---