Boxing History: July 4, 1910 Jack Johnson KO 15 James J. Jefferies, Reno. Retains world heavyweight title.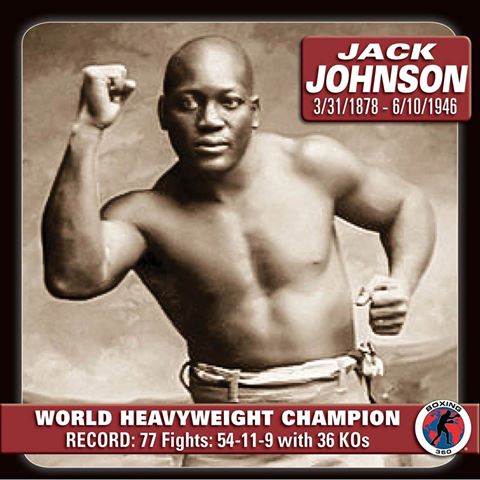 On Independence Day, 1910, Jack Johnson finally got his long-awaited shot at Jim Jeffries, the man who, five years earlier, had retired as the undefeated heavyweight champion of the world. Even before it happened, the meeting between these two fighters became the most anticipated, controversial, and talked-about sporting event in a generation. Many whites believed that Jeffries, despite a five year absence from boxing, was the legitimate world champion by virtue of his retiring without tasting defeat. They predicted that Jeffries would be the man to take the laurels from Johnson. On the day of the fight, however, all hopes for Jeffries were dashed. Johnson dominated the ex-champion nearly as one-sidedly as he had Tommy Burns, appearing impervious to Jeffries' vaunted punching power and using his own defensive prowess to frustrate and exhaust Jeffries. In the fifteenth round, he dealt the challenger his first two professional knockdowns before referee Tex Rickard, who doubled as promoter, stopped the bout.
Though the Jeffries bout earned Johnson a total of $121,000 and the grudging respect of many Caucasians as the world's premiere prizefighter, it also proved a boon to both his private and professional lives. The result of the fight produced race riots in several of the country's urban centers, leaving more than a dozen men dead. Fearing films of the fight would create similar turmoil, Congress passed an act forbidding the interstate transfer of boxing films.
John Arthur ("Jack") Johnson (March 31, 1878 – June 10, 1946), nicknamed the Galveston Giant. was an American boxer. At the height of the Jim Crow era, Johnson became the first African American world heavyweight boxing champion (1908–1915).
GREAT COVERAGE – VIDEO
103 years ago today, July 4, 1910, The "Battle of the Century," takes place in a stadium built specifically for the fight in Reno, Nevada. Jack Johnson (Galveston Giant) KO 15 James J. Jefferies (The Boilermaker), Johnson retains world heavyweight title to become the first African American Heavyweight Champion of the World. After the news of Johnson's victory spread, there were riots and lynching throughout the country, and 11 people were killed.
---