Boxing History: June 27, 1914 Jack Johnson W 20 Frank Moran, Paris. Retains World Heavyweight Title.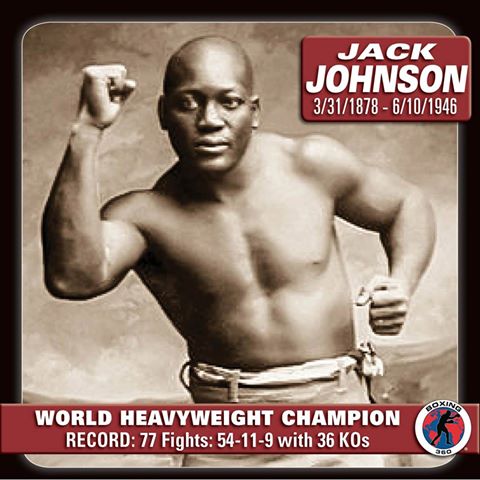 John Arthur ("Jack") Johnson (March 31, 1878 – June 10, 1946), nicknamed the Galveston Giant, was an American boxer. At the height of the Jim Crow era, Johnson became the first African American world heavyweight boxing champion (1908–1915).
Named by some historians as the single most important athlete in modern sports history, Jack Johnson was the first black man to win the World Heavyweight Championship. It was not simply his skin color which shattered convention, but also Johnson's brash personality, his willingness to defy tradition and popular opinion to be his own man, and the combination of power and technique which he used to defeat an entire generation of the division's best that made him a figure of incredible historic significance during the early twentieth century.
In a documentary about his life, Ken Burns notes that "for more than thirteen years, Jack Johnson was the most famous and the most notorious African-American on Earth."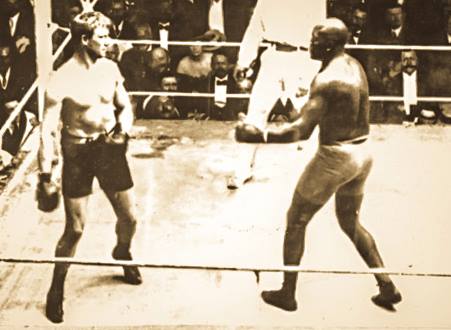 June 27, 1914 – Jack Johnson W 20 Frank Moran, Paris.
The night of the fight arrived, Frank Moran versus Heavyweight champion Jack Johnson for the heavyweight crown. George Carpentier, a young promising French light heavyweight, would referee and judge the 20-round scheduled bout. The bout would be quite a rough and tumble, bloody affair with a lot of pushing, shoving, clinching, and fouling. On several occasions Johnson was warned for throwing low blows and heel punches. Despite his best efforts, Frank was unable to unleash and connect with the spry old Johnson. As the bell sounded at the completion of the twentieth and final round the two boxers slowly walked back to their corners battered, bruised, and exhausted. Carpentier walked to the middle of the ring, stepped up to the microphone and awarded the fight to the reigning champion, Jack Johnson. A chorus of boos echoed through the arena as many of Frank's countrymen were in attendance and felt that Frank had won the fight. After the decision was announced the two fighters embraced and Frank congratulated Johnson on retaining his title. As luck would have it, neither Frank nor Johnson would be paid for their hard fought battle as a Chicago Brewer had secured a creditor's attachment on the purse as Johnson supposedly owed them a large sum of money. As luck would further have it, the following day after the fight, a young Bosnian-Serb would assassinate Archduke Franz-Ferdinand of Austria triggering a series of events that would begin the great war, World War I. The French government placed a moratorium on all civil debts and the promoter took full advantage of this with neither Frank nor Johnson ever receiving a cent.
---