Boxing History: October 7, 1927 Tommy Loughran W 15 Mike McTigue, NYC. Wins vacant World Light Heavyweight Title.
Referee: Lou Magnolia. Throughout the entire fight the veteran McTigue (174½), who had been handed the title by the NYSAC and was making his first defence, carried the fight to Loughran (175), only to be picked off and rocked by the younger man. McTigue was always dangerous, but he was unable to pin down the challenger long enough to do any real damage. By the 13th both men were tiring, and although McTigue had a bad swelling over his left eye he bored in continuously during the last two sessions in an effort to swing things his way. Even though he was hurt at times, Loughran was well worth the unanimous decision that went his way.
Tommy Loughran (born November 29, 1902, Philadelphia, PA. died July 7, 1982, Altoona, PA) was the 1927-1929 undefeated Light-Heavyweight Boxing Champion of the world and is regarded as one of the most skilled fighters of all time.
Loughran's effective use of coordinated foot work, sound defence and swift, accurate counter punching is now regarded as a precursor to the techniques practiced in modern boxing. Loughran fought many middleweight, light-heavyweight, and heavyweight champions in his career – including Gene Tunney, Jack Sharkey and Georges Carpentier. In his esteemed career Loughran even achieved a Newspaper Decision over fistic phenom Harry Greb. Loughran was but 19 years old when he first met Greb.
As a light heavyweight, he defeated two future world heavyweight champions: Max Baer and James J. Braddock. Loughran finally fought Primo Carnera for the Heavyweight title. Despite the 8 inch size disadvantage, the age disadvantage and weight disadvantage Loughran was up against, he still managed to beat the colossus – at least that's how the fans and critics since have ruled it. The judges however thought differently.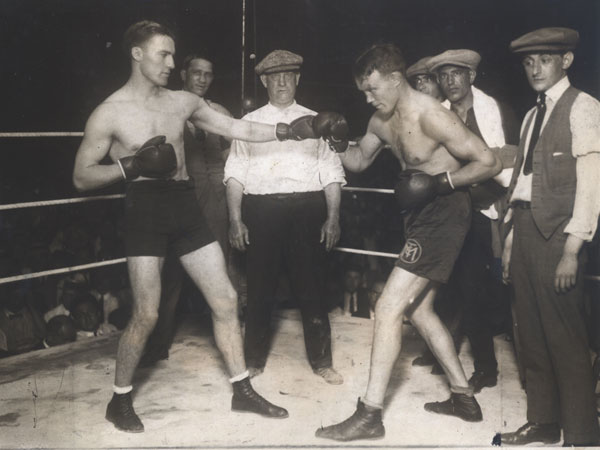 On October 7, 1927 at Madison Square Garden in New York world light heavyweight champion Mike McTigue defended his title against his old nemesis Tommy Loughran. Loughran prevailed this time winning a unanimous 15 round decision and the title.
---