Boxing History: January 25, 1932 Willliam "Gorilla" Jones KO 6 Oddone Piazza, Milwaukee. Wins vacant world middleweight title.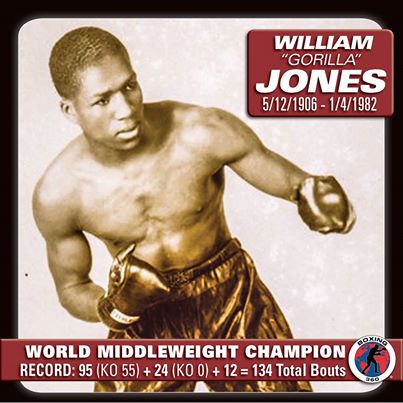 William Landon Jones (1906–1982) known as "Gorilla" Jones, was an American boxer and twice NBA Middleweight Boxing Champion of the World. Jones was never knocked out although he himself won by 52 knockouts out of 101 wins over 141 total fights.
Jones turned professional in 1923 with Stephen "Suey" Welch as manager and trained with Joe Stanley.[1] He won the vacant National Boxing Association World Middleweight Title with a win over Oddone Piazza in 1925. He lost the belt later that year to Frenchman Marcel Thil through disqualification. But his greatest success came in 1932 when he twice won the NBA Middleweight Boxing Championship of the World (against Oddone Piazza and Young Terry). In 1933 he lost the IBU Middleweight World Championship against Marcel Thil and won the NBA Middleweight Championship of America against Sammy "Kid" Slaughter by KO.
In 1937 he took on Freddie Steele, the National Boxing Association World Middleweight and NYSAC World Middleweight Title holder, but lost to a decision.
His last win was two years later in 1939, and he lost his last fight in 1940, when he retired from boxing.
Jones would have over 100 victories in his long pro career .He scored 55 knockouts. He would lose only 24 times in 134 recorded bouts. Amazingly he was never stopped!
Jones beacame a trainer on the Pacific Coast from the mid-to-late 1940s until the 1970s, working with Milo Savage, Johnny Wells, Irish Bob Murphy, and later with Suey Welch's boxer Gil King during the early 1970s.
He went to work as Hollywood legend Mae West's chauffeur and bodyguard in 1928. William Landon Jones enjoyed a close friendship with MAE WEST for 50 years. "A motion picture company offered me a quarter-million to film my story, but they wanted to make me say I was her lover," Jones told Jet magazine in 1974. "That would be a lie because she was my manager and my friend. All the money in the world would be no good without a friend who has done everything to keep me on top and let me live the life I wanted to live."
When Jones began to suffer from diabetes and lose his eyesight, West kept him on the payroll and handled his bills. Jones was devastated in 1980 when West died in Ravenswood at age 87. She left him two apartment buildings and three houses. Acquaintances said Jones gave up the will to live after "The Lady" passed away. As his health deteriorated, his weight plunged to 102 pounds. In 1982, William "Gorilla" Jones died of arteriosclerosis at age 75.
Jones was posthumously inducted into the International Boxing Hall of Fame in 2009.
World Middleweight Champion, William "Gorilla" Jones and his lions…
After retiring from the ring, Hollywood icon, Mae West hired Gorilla Jones as her chauffeur and bodyguard. The exact nature of Jones' relationship with the famously libidinous West is hard to establish. What is known for sure is that West's money helped fund Jones favorite hobby: collecting lion cubs, which accompanied him virtually everywhere he went.
Jones was reffered to as flamboyant, he would enter an arena escorted by lion cubs on a leash. The lions were ones he caught in Africa with the Great White Hunter, Clyde Beatty. He flew his own airplane in 1931, but took the only dive in his career, crashing into a barn in Kansas. He lost his pilot's license, his championship belt, and his eyesight. A year later he regained both his sight and his title, but he never flew again.
---