Boxing History: December 3, 1923 Harry Greb W 10 William Bryan Downey, Pittsburgh. Retains World Middleweight Title.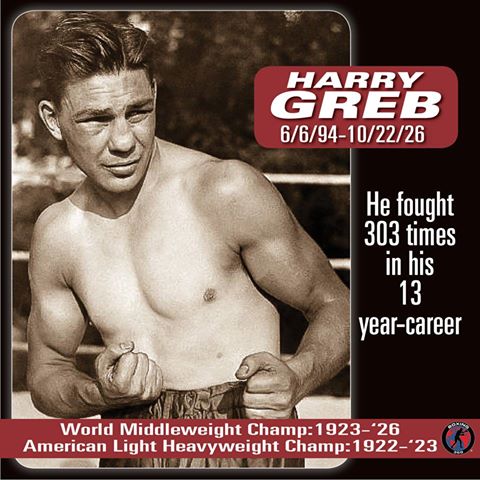 First card under McBride law that legalized 10-round decisions in Pennsylvania. Greb was conservative at the start, boxing well within the rules. But Downey provoked him in the third round and Harry reverted to his old style and gave Bryan a terrific thrashing. Greb won every round but the first, which went to Downey by a slight margin. Greb won the third and each of the last five rounds by big margins and battered Downey all over the ring, but never floored him. A hook sent Downey through the ropes in round 3. Greb was given the judges decision.
Edward Henry "Harry" Greb (June 6, 1894 – October 22, 1926) was an American professional boxer. He was the World Middleweight Champion from 1923 to 1926 and the American Light Heavyweight Champion from 1922 to 1923. He fought a recorded 303 times in his 13 year-career, against the best opposition the talent-rich 1910s & 20s could provide him, frequently squaring off against light heavyweights and even heavyweights. Widely considered one of the best fighters of all time, Greb was named the 7th greatest fighter of the past 80 years by The Ring Magazine, the 5th greatest fighter of all-time by historian Bert Sugar and ranked as the #1 middleweight and the #2 pound-for-pound fighter of all-time by the International Boxing Research Organization.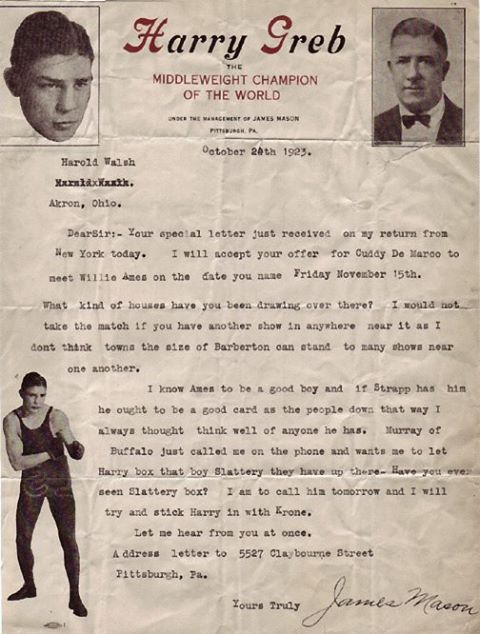 A one page typewritten letter from James Mason the manager of Harry Greb and top lightweight Cuddy DeMarco. Mason was writing to promoter Harold Walsh regarding possible matches for his fighters. Willie Ames (defearted champions Johnny Dundee, Steve Kid Sullivan and Charlie Phil Rosenberg) is accepted as an opponent for DeMarco and Mason mentions that he will try to have Greb box "Krone" (Harry Krohn, a lightheavyweight). He also mentions future champion Jimmy Slattery as a possible opponent for Greb.
---