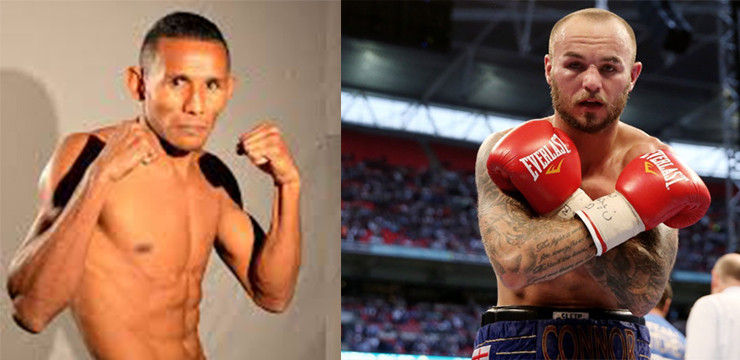 Our selection from last week came from the match up between WBA featherweight world champion Jesus Cuellar (28-1, 21 KOs) of Argentina and challenger Jonathan Oquendo (26-5, 16 KOs) of Puerto Rico. It was featured on the undercard of the main event between WBA middleweight champion Daniel Jacobs and former world champion Peter Quillen. The site of the event was the Barclays Center, Brooklyn, New York. Showtime Championship Boxing aired the event.
Cuellar took charge of the fight early on by scoring a knockdown in round 4 on Oquendo. The bout wasn't a real thrilling affair but had some moments. Oquendo did manage to open up a bit more later on in the fight. Cuellar who is more noted for his mixing it up staged off the rally with some intelligent boxing. The judges had it correctly in the end all for the favorite Cuellar who retained his world title. We extended our win streak as we had predicted Cuellar to win.
This week we have decided to go with matchup between former world title challenger Kevin  Mitchell of the United Kingdom and Ismael Barroso of Venezuela. The bout will take place at the O2 Arena (Millenium Dome), in Greenwich, London, United Kingdom. It's scheduled for 12 rounds with the WBA interim World lightweight title on the line. The show will be promoted by Eddie Hearn (Matchroom Boxing).
Mitchell seemed so close to finally becoming a world champion in his last fight. He challenged WBC champ Jorge Linares this past May. Mitchell had Linares down in round 5 and was up on two of the scorecards late in the fight. Mitchell was busted up pretty bad in his face late in the fight where he was stopped by TKO in round 10.
Barroso is a hard punching southpaw out of Venezuela. He hasn't fought stellar competition but has pretty much dominated all that he has faced. He is very confident ahead of his bout with Mtichell. Some feel that the damage his countryman Linares did to Mitchell may linger over into Saturday's fight with Barroso.
This is the favorite Mitchell's big chance to win a portion of a world title. He is fighting at home and has fought much better competition than Barroso. The question will be how much did that last fight with Linares take out of Mitchell. The underdog Barroso has flashed heavy hands but this is a big step up for him. We are selecting Mitchell to win this one.
Disclaimer: Boxing360's Pick of the week is strictly for entertainment purposes only
---