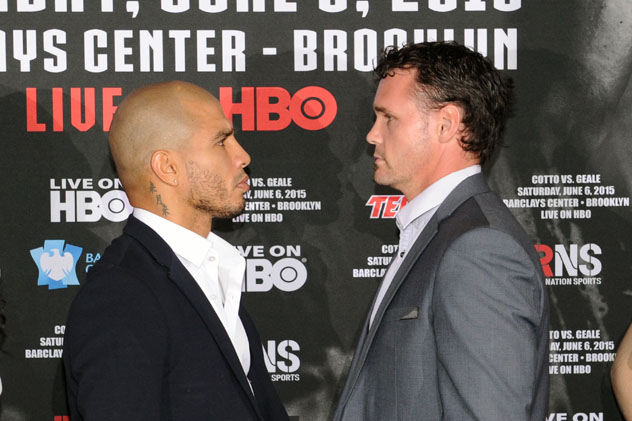 Last week was our inaugural Boxing360 pick of the week.  The fight was between IBF world flyweight  champion Javier Mendoza (23-2-1, 19 KOs) of Tijuana, Mexico and former world title challenger Milan Melindo (32-1, 12 KOs) of the Philppines. Our pick was Melindo who went on to lose by a technical decision due to a cut suffered by the champion Mendoza in round 6. There is no doubt that Mendoza was clearly dominating the action at the time of the stoppage. The judges were right on with their official scores of 60- 52 twice and 59- 53.
There is no excuses on picking Melindo to win last weekend.  We were just wrong. It's bound to happen. Especially if your picking fights regularly.   You have to have a short memory with both wins and losses as each week is a new week. There are not a lot of fights to choose from for this week so were going to go with the most high profiled fight of the week which is WBC middleweight champion Miguel Cotto vs former two- time world champion Daniel Geale of Australia this Saturday.
Geale is a former two-time world champion at 160 and has been at the weight nearly all of his career. Cotto has had just one fight at middleweight which he won his current world title against a   less than %100 Sergio Martinez. In fact Cotto weighed in at just 155 pounds vs. Martinez.  Geale has the experience of winning world titles twice as the visitor and both times in Germany. Its hard enough to win in Germany but Geale did it the hardest way which was by decision. This is an important factor for Geale's mentality as he will be in a very pro Cotto atmosphere this Saturday night.
Cotto is from Caugas, Puerto Rico but has said that New York is like a second home to him. New York has a very large Puerto Rican population many of whom come out to support Cotto when he fights locally. The very popular Puerto Rican parade is the following weekend. The fight you could say is an appetizer prior to the main course a week later. The statistics favor Cotto's success in New  York as he has a record of 10 and 1 in his fights in New York and never lost a world title defense there.
Our pick is the heavily favored Cotto. We feel overall he is the better fighter. We do expect a very tough challenge from Geale.  Those who saw Geale's knockout loss to Gennedy  "GGG " Golovkin only need to know that he is not fighting "GGG " Saturday. That fight is irrelevant in comparison. It's a totally different matchup for Geale this time around. Geale is the natural middleweight but is not a huge puncher.   This is an important factor because Cotto likely will get hit flush a few times at least. This allows him a margin for era on those moments in the fight.  We won't predict how Cotto will win but just that he will have his hand raised in the end.
Disclaimer:  Boxing360's Pick of the week is strictly for entertainment pursposes only
---