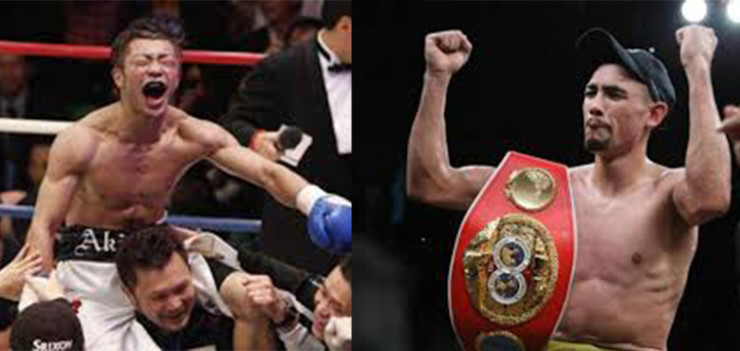 Our selection from last week came from the match up between former world title challenger Bryant Jennings (19-2, 10 KOs) and unbeaten WBA World interim heavyweight champion Luis "The Real King Kong" Ortiz (24-0, 21 KOs). The bout was the main event at the Turning Stone Casino in Verona, New York this past Saturday night. HBO Championship Boxing televised the show with Top Rank and Golden Boy Promotions promoting the show. The odds before the bout were about even but it was Ortiz who proved he was a step above Jennings. Ortiz had Jennings hurt badly in round 1 and eventually got him outta there in round 7. Ortiz retained his title and made a big statement. We started a new win streak as we picked Ortiz to win.
This week we have decided to go with matchup between former two-division world champion Akira Yaegashi (22-5, 12 KOs) and IBF junior flyweight world champion Javier Mendoza (24-2-1, 19 KOs) of Mexico. The bout will take place December 29th at the Ariake Colosseum, Tokyo, Japan. This will be the second defense for Mendoza and his first time fighting outside of Mexico as a professional. Hideyuki Ohashi (Ohashi Promotions) will promote the event.
Mendoza has been quite the surprise. It started in 2014 when he upset former world champion and countryman Ramon Garcia Hirales to win his current world title. Mendoza had not fought in more than a year entering that about but was still able win in decisive fashion. This past May in his first defense he surprised many by defeating 32 and 1 Milan Melindo of the Philippines. The bout was fought on Mendoza's turf but many thought Melindo would still beat him. Mendoza completely dominated and won the fight.
Yaegashi has won world titles at 105 and 108 pounds. He had two world title fights in 2014 that saw him lose both being stopped inside the distance. It should be noted that those losses were against pound for pound unbeaten Roman Gonzalez and Pedro Guevara. They sported a combined record of 62-1-1 when they faced Yaegashi. He has won 2 fights in a row against very lower level opposition entering his fight with Mendoza.
This is a tough fight to pick because Mendoza seems to be peaking at the young age of 24. He looked really good against Melindo in his last fight but has not been all that active.  Yaegashi did not look particular well in his last two world challenges but against very good opposition. Yaegashi is 32 which is getting up there for this weight class. This will be the third world title fight opportunity for Yaegashi within the last two years. This will be the first fight for Mendoza outside of Mexico as a pro. We're  going to go with Yaegashi to pull it together at least for one night to dethrone Mendoza.
---