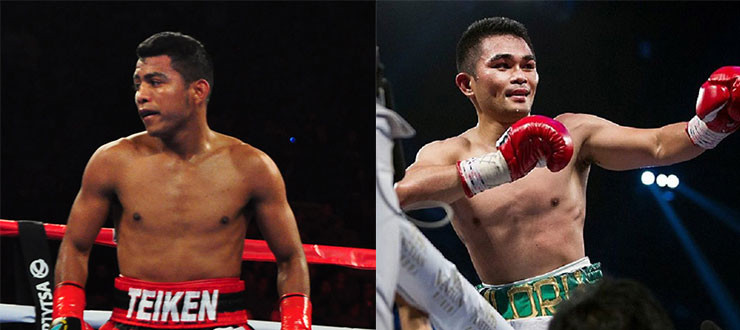 There has been a lot of speculation over the weekend that a showdown between WBC flyweight champion Roman "Chocolatito" Gonzalez (43-0, 37 KOs) and former multi-divisional world champion Brian "Hawaiian Punch" Viloria (36-4, 22 KOs)  could take place in the fall. The possible date could be October 17th at the famed  Madison Square Garden in New York. This would be on the undercard  of the Gennady Golvkin vs. David Lemieux middleweight unification. It would make perfect sense because Gonzalez recently fought on Golovkin's last undercard in a bout aired on HBO.
Gonzalez delivered a memorable performance in that his last fight dismantling former world champion Edgar Sosa in less than two rounds of work. The fight may not have lasted long but Gonzalez' work rate and punching power left many fans wanting to see more of him. It now looks as if those who were waiting for their opportunity to see Gonzalez again under the bright lights could soon get that chance.
Viloria got by his obstacle this past weekend in former 3-time world tittle challenger Omar Soto. The bout was a rematch from 5 years earlier when Viloria won by a split decision. Viloria had not trouble at all this time around stopping Soto in the very first round. Viloria actually had Soto down three times in that short period of time. It was a punctuation in a sense for Viloria as he showed he could be the toughest challenge for Gonzalez to date.
Both Gonzalez and Viloria have various opponents in common that they each have faced. The difference obviously is that Gonzalez is unbeaten and never lost to any of them. One that stands out is Sosa. Gonzalez had no trouble with Sosa but Viloria was upset and decision by Sosa some years back. The other name that stands out is current world champion Juan Francisco Estrada. It was an unknown Estrada who gave Gonzalez without a doubt his toughest fight to date. Gonzalez would go on to win a competitive but correct decision in his favor. Viloria who fought on that very same card would drop a close split decision to Estrada some short months later.
The common opponents will be irrelevant come fight night as their fight would be totally different fight. Styles make fights as they say in boxing.  Both guys have very good power and like to move forward. The durability that Viloria is known for would seem to really push Gonzalez to the limits. Gonzalez' defense doesn't often get a lot of credit. He is not just some reckless puncher. It's what makes his overall skillset that much impressive.  Gonzalez already scored big with he viewing public for the smaller weight classes with his performance the last time out. A fight of this magnitude would likely build on that.
---