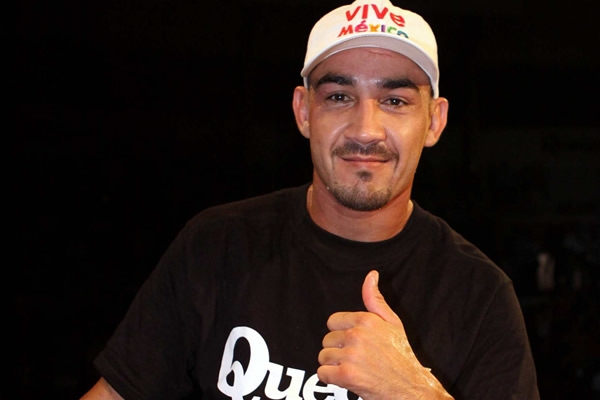 Humberto Soto just can't catch a break.  It's as if he is scheduled to fight on a major network, a major catastrophe, at least in boxing terms, might happen.  The latest came this past weekend when it was reported by some respectable websites that former title challenger Ray "Sugar" Beltran came up positive for a controlled substance in his last fight.  Back in early May Beltran faced Japanese Takahiro Ao and stopped him in two rounds.  The bout was for the vacant WBO lightweight title but it remained so when a day earlier Beltran didn't make weight.  Soto was to face Beltran on June 27th in the semi-main event of a HBO telecast headlined by Timothy Beltran vs Jessie Vargas at the StubHub Center in Carson, CA.  With Beltran coming up positive, he has been suspended by the Nevada State Athletic Commission and now ineligible for the fight.
Everything looked great back in 2005 when Humberto Soto upset former Olympian Rocky Juarez for the interim WBC featherweight title.  Nobody expected the Los Mochis native to beat Juarez who had been tagged as one of the best of the 1996 Olympic class.  Things changed two years later when in his next performance on HBO Soto was dominated by Joan Guzman in a twelve round bout for the WBO super featherweight title.
He hasn't performed on the premium channel again.
Soto has gotten on some good PPV cards like when he beat Bobby Pacquiao on Cotto-Judah or  David Diaz on the undercard of Pacquiao-Clottey but he has also had some lows like when he was stopped by Lucas Matthysse on Showtime back in 2012.
Since that loss Soto has strung together six wins including impressive ones against the previously undefeated Juan Carlos Abregu and veteran John Molina Jr.  Because of that and with some wise negotiating from his manager Antonio "Cañas" Lozada, Soto was tapped to be the first big test for up and coming prospect Frankie Gomez on the undercard of "Canelo" Kirkland on HBO back in May 8th.  Gomez didn't cooperate since he came in a little over six pounds over the contracted weight of 141lbs.  They still tried to make the fight but Team Soto correctly didn't agree to give up too much advantage and the fight was scrapped.  It was a big blow since it would have been the semi-main event not only on the network but in front of over thirty thousand fans at Minute Maid Park in Houston, Texas.
Golden Boy Promotions, who has an agreement with Soto, tried to make it up to him with the Beltran fight but that went up in flames.   Erick Gomez, matchmaker for the company helmed by Oscar De La Hoya, went on the record to state that Soto is still part of their HBO plans and is actively looking for a new opponent.  It might be a tough task to find somebody that will be a good enough foe for HBO to accept and will be ready in such short notice.
Or maybe HBO will give Soto a mulligan and give him a break, he sure needs it.
---