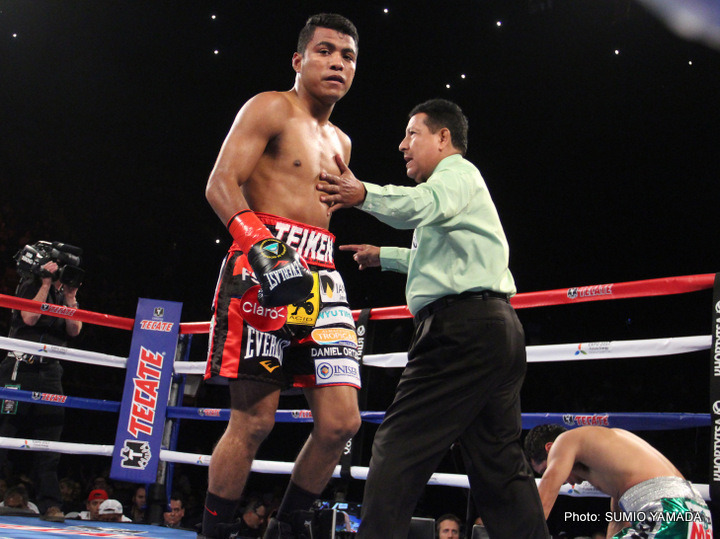 WBA Flyweight champion Roman "Chocolatito"  Gonzalez (43-0, 37KOs )  did much more than warm the fans up for the main event this past Saturday. He actually took the spotlight with his performance. In the main event Gennady Golovkin did what he was supposed to do in the end stopping a game Willie Monroe Jr. in round 6.  However, it was Gonzalez who took the local fans and HBO viewers by surprise with his explosive destruction of respectable former world champion Edgar Sosa. The fight didn't even last a full 2 rounds but the nonstop action made up for the short bout. There was no feel out process as Gonzalez went right after Sosa who opted to trade instead of hold or run. Gonzalez was clearly getting the better of the exchanges buckling Sosa multiple times in round 1. Sosa to his credit managed to stay on his feet throughout the first stanza. All that would change in round 2 as Gonzalez would drop Sosa three times in route to the TKO victory.
The effort by Gonzalez left many wanting to see more of the diminutive power punching fighter. Gonzalez made such an impression in his HBO network debut that some feel he can be featured as a main event fighter the next time out. Last weeks' location the Forum in Inglewood, California, was ideal as the vibe was electric reminiscence of the 90's when this was the norm at the venue. This was actually the third time that Gonzalez had fought in Southern California in the last few years. The previous two times were not televised on U.S. premium cable networks which is why Gonzalez benefited so much more this time from the exposure of being on HBO. The U.S. based Nicaraguan boxing fans, Hispanic boxing fans, and fans in general are likely going to come out and support Gonzalez now that he has become an immediate must see commodity.
The good news is there are many exciting television matchups that can realistically be made for Gonzalez to be featured in. One such name that has already been mentioned is a matchup with former world champ Giovanni Segura with whom Mexican fans are very familiar. Segura is from Mexico and fights regularly on the premium networks of Mexico. This would be a can't miss thriller. Segura is a straight ahead heavy handed puncher who was the first to defeat former longtime champion Ivan Calderon. A feat that he ended up doing twice. Another exciting fight would be Gonzalez with former world champ Brian Viloria who is a big puncher who has only been stopped once in his career and that was in the 12th and final round. Perhaps the most intriguing matchup of them all would be a rematch and unification with unified world champion Juan Francisco Estrada. The pair fought in Los Angeles, California in November 2012.  It was an exciting fight where Estrada pushed Gonzalez like no other as he was able to combine boxing, movement, and heated exchanges over a good portion of the fight before dropping a competitive decision to Gonzalez. Estrada seems to have only gotten better from that experience winning 5 fights since that time including winning two world titles.  In the meantime fans anxiously await the announcement of the return of  "Chocolatito".
---