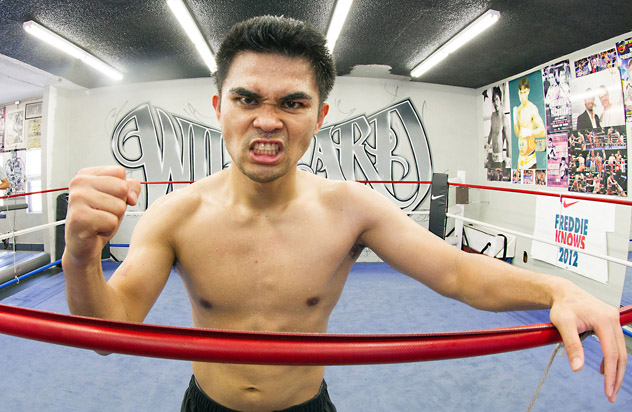 Former four-time world champion Brian "Hawaiian Punch" Viloria  (35-4 , 21 KOs) has achieved in his career more than most pro fighters could say they have. Viloria was a former Olympian but considering he has fought near or below the flyweight limit for now his 15th year is quite an achievement in itself. He has won world titles at the 108 and 112 pound weight limits. He has fought and beaten some of the top guys  of his era such as Giovani Segura, Ulises Solis, and many others. He likely has done enough to find himself inducted into the hall of fame at some point.  Viloria does not seem to be thinking about any of that as he continues on fighting and at a very high level. When a fighter from the lower weights enters his 30's many times the skill level drops off but this has not been the case for Viloria.
It's hard to believe it's been nearly a decade since Viloria won his first world title. His career has had its ups and downs for sure since that first crowning achievement. Three of Viloria's four losses have been upsets. In 2010 one of those losses cost him a showdown with former amateur rival, world champion, and future hall of famer Ivan Calderon. Viloria just needed to get by veteran Carlos Tamara of Colombia.  Viloria was ahead on two of the judges official scorecards entering the 12th and final round. Viloria would run out of gas and eventually be stopped in the 12th.
Many wrote Viloria off at that point thinking his better days were behind him. Viloria would prove the doubters wrong in a major way. He would become a world champion for the third time just a year and half later in his native Hawaii dethroning Julio Cesar Miranda. Viloria wasn't done yet. The following year he would unify the titles by stopping fellow champ Tyson Marquez to win his fourth world title. In April 2013 Viloria would lose his titles to a very hungry Juan Francisco Estrada by split decision. Estrada is nearly 10 years his junior but Viloria showed that he could still compete with his younger foe.
Viloria has since reeled off three consecutive victories and appears primed to make at least one more world title run. There are many options for Viloria within the division. A rematch with Estrada is one such possibility. The winner of the bout between champion Roman Gonzalez and Edgar Sosa could be another option. Sosa upset Viloria back in 2007 and has had quite the career since. Unbeaten Thai world champion Amnat Ruenroeng would seem a realistic possibility as well. Viloria seems to be in a good position for the big fights and should not be counted out to win his fifth world title.
---