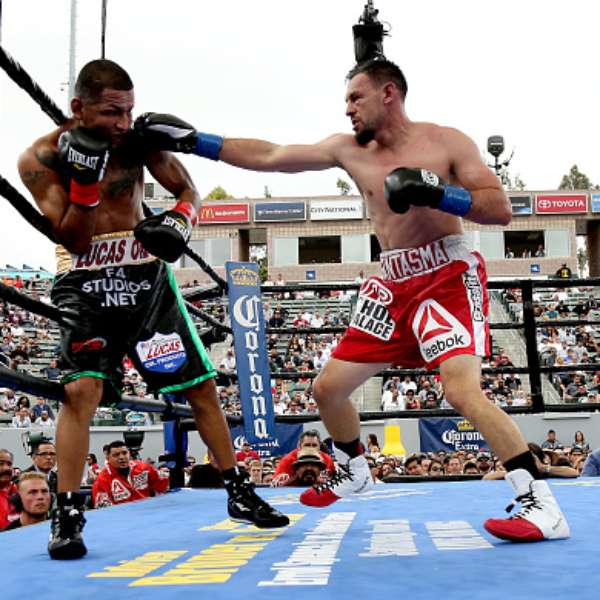 Former- two division world champion  Robert "The Ghost" Guerrero (33-3-1, 18 KOs)  had a much tougher time than expected this past Saturday. He narrowly escaped with an unpopular split decision victory over Aaron Martinez (19-4-1, 4 KOs). The bout was the main event and  took place outside at the StubHub Center in Carson, California under the warm sun early Saturday afternoon.   NBC aired the event as part of Al Haymon's Premier  Boxing Champions Series.
The thought entering the bout was that Martinez at the very best was going to give Guerrero some rounds of good work. Martinez went well beyond that to where many actually thought he deserved the decision victory. The only knockdown of the fight was scored by Martinez in round 4. Guerrero to his credit beat the count and came back strong the following round and for a good portion of the rest of the fight. Martinez is from nearby East Los Angeles, California where many fans came out to support him. They were not thrilled at all to hear to the decision being announced in favor of Guerrero.
Guerrero earlier in the week prior to the Martinez fight had stated that inactivity contributed to his loss to Keith Thurman this past March. It was a comment that didn't sit well with some who felt it was an unnecessary excuse. The majority respected how Guerrero came back from a knockdown vs Thurman and closed the fight strong. Thurman clearly won the fight and dealt out a lot of punishment to Guerrero in the process. Thurman himself left the ring that night himself a bit bruised up. In fact Thurman decided to push his next fight back thinking it was a bit to soon following is fight with Guerrero to come back in June.
Guerrero closed his fight with Martinez very strong which made the fight a hard one to score in the end. Guerrero getting the decision was not really that bad. The fight could have went either way.   The more interesting topic is regarding Guerrero's future. Martinez has never beaten a fighter on Guerrero's level. It is hard to say if Guerrero was looking past him or if Martinez stepped his game up to another level. The knockdown was a bit alarming as Martinez is not known for his power at all. This was no flash knockdown as he hit Guerrero squarely on the chin and hurt him as he dropped to the canvas. It makes one wonder if Guerrero should have done the same as Thurman who took some more time off after their fight and will return in July.  Guerrero whether he takes a longer layoff or not is likely going to fight an upper echelon fighter the next time out.  We will probably get our answer then as to whether his boxing career is headed back to the championship level or not.
---