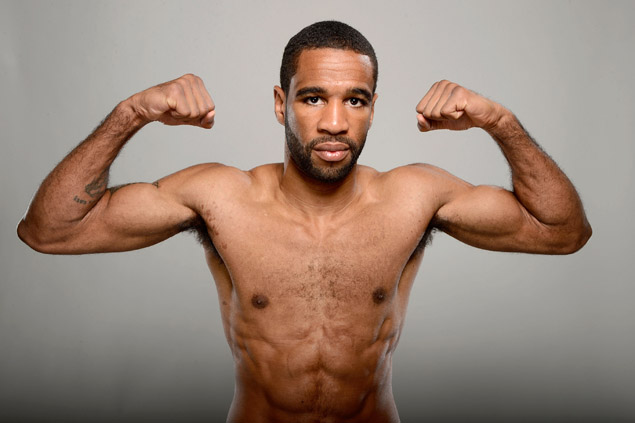 IBF Junior welterweight world champion Lamont Peterson (33-2-1, 17 KOs) can be assured of two things after his  upcoming fight vs. WBA Super World super lightweight/WBC World super lightweight world champion Danny Garcia  (29-0 , 17 KOs). He will remain world champion and Garcia will as well when the bout is over. The two world champions will officially meet April 11th at the Barclays Center, in Brooklyn, New York. Both fighters have agreed to a catch weight above the 140 pound max weight limit so neither fighters' world title will be on the line.
This will not be the first time that Peterson has had a world title fight under similar circumstances. When he fought Lucas Matthysee in September 2013 his same IBF world title was not on the line either. Matthysee at the time was the WBC interim champion. The IBF does not recognize unifications with interim titles so the fighters' agreed to a catch weight of 141 pounds. This turned out to be a very good thing for Peterson who was handily defeated by Matthysee by way of third round TKO. Whether by pure chance or in some cases not so good Peterson has been able to hold on to his IBF world title. In the case of the bad it occurred when he actually became a world champion for the first time. He defeated IBF/WBA world champion Amir Khan by way of close unanimous decision in his native Washington D.C. in December 2011. A rematch was set for May of 2012 but Peterson failed a random urine test less than two weeks before the fight. He also admitted to being implanted with the banned substance synthetic testosterone before his first fight with Khan. The WBA stripped Peterson and reinstated Khan as their WBA Super World Super Lightweight. The IBF kept Peterson on as their world champion based on the findings reported by an independent physician. Peterson's victory was officially upheld instead of being ruled a no contest.
Even though Peterson cannot win Garcia's world titles he can hand Garcia his first pro loss. Peterson is a significant underdog entering this fight and if he can pull off the upset it could launch his career to another level. A numerous set of very good circumstances could happen for him by defeating Garcia. One could be a very lucrative unification rematch.  The 140 pound weight class is loaded with talented but more importantly television fighters. Peterson now 30 will no doubt be seeking the big money fights. Peterson definitely doesn't want to lose but should he there are still significant names that would like to challenge him for his IBF world title. Peterson will be able to enter this fight very relaxed without any of the pressures that Garcia has. Garcia unlike Peterson is an unbeaten fighter and loss would damaging for him in terms of landing a mega fight. Though the odds are stacked against him to win it appears under the circumstances that Peterson is already a winner before the bell even rings for his next fight.
---