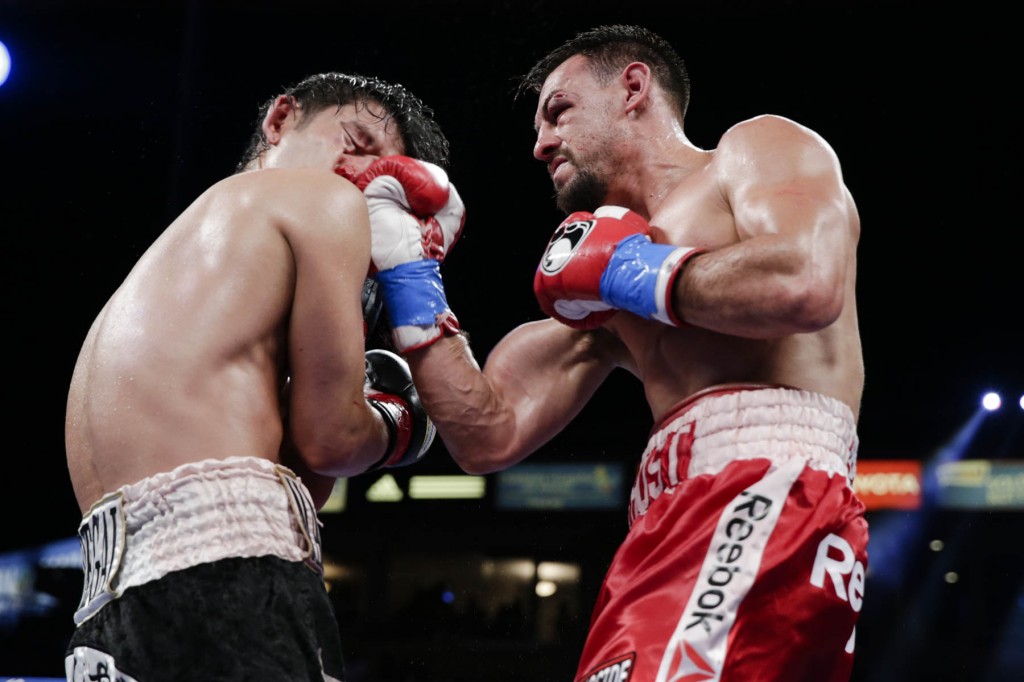 Fights are like women, they come and go.  Some are good, some are bad.  Some are forgettable and some you remember for the rest of our life.  For those types of fights, boxing sets up a committee, a ballot is written up and a fight is tagged forever as the fight of the year.  Mixtures of a lot of things have to be met for a fight to be deemed an unforgettable fight.  Action, brutality and most of time blood are big and important ingredients.  This past Saturday night, we saw just that type of fight between former world champion Robert "Ghost" Guerrero and Japanese kamikaze Yoshihiro "Maestrito" Kamegai.
The main event of the first Showtime broadcast presented by Golden Boy Promotions without Richard Schafer at the helm, the scheduled twelve round welterweight didn't begin as if it would be that kind of fight.  Despite Guerrero not being in a ring for over twelve months, he proved that ring rust was not an issue as he began to unleash fast and accurate combinations on a hesitant Kamegai.  If Guerrero would have followed that strategy for how long the fight would have gone, he would have won an easy decision or even a late stoppage as Kamegai was really having problems with the aggressiveness of Guerrero.  For most of the first three rounds, the Tokyo-based fighter was only throwing one or two punches at time while not able to really set up an offensive.
Guerrero changed about the fourth round when he decided to stand toe-to-toe with the Asian and exchange heavy leather and from then on, the fight took off.  They took turns in landing as the fight stayed in the proverbial phone booth so often mentioned in these types of fights.  Ruben Guerrero, Robert's father and trainer, did nothing in the corner to discourage the strategy when it was obvious that Guerrero was a better and more technical fighter.
Guerrero kept scoring the better and harder punches but Kamegai proved that the chins in the far East are as durable as the ones here as he took everything that Guerrero dished out and then some.  Kamegai did succeeded in disfiguring Robert's face in the shape of a swollen and purple left eye with a cut above it for good measure.  The eye didn't factor in as Guerrero stayed in the pocket and didn't seem to lose any steam as he kept punching as the small but enthusiastic crowd at the StubHub Center cheered him on.
Ever since his lopsided loss to Floyd Mayweather Jr last April, Guerrero has not exactly been the most respected fighter in the sport.  First, he tried to get rid of his contract between him and Golden Boy Promotions.  Then when offered a fight last December against Keith Thurman, he refused.  He kept a low profile except for a number of strategically released pressers announcing different events such as Guerrero's use of Cross-Fit to stay in shape for this fight.
Boxing fans are fickle bunch and it's always been a "what have you done for me lately" type of attitude when it comes to the relationship between fighters and fight fans.  After this last performance, it can be expected that all past transgressions have been forgotten for now and the answer to the questions is "a lot".
---