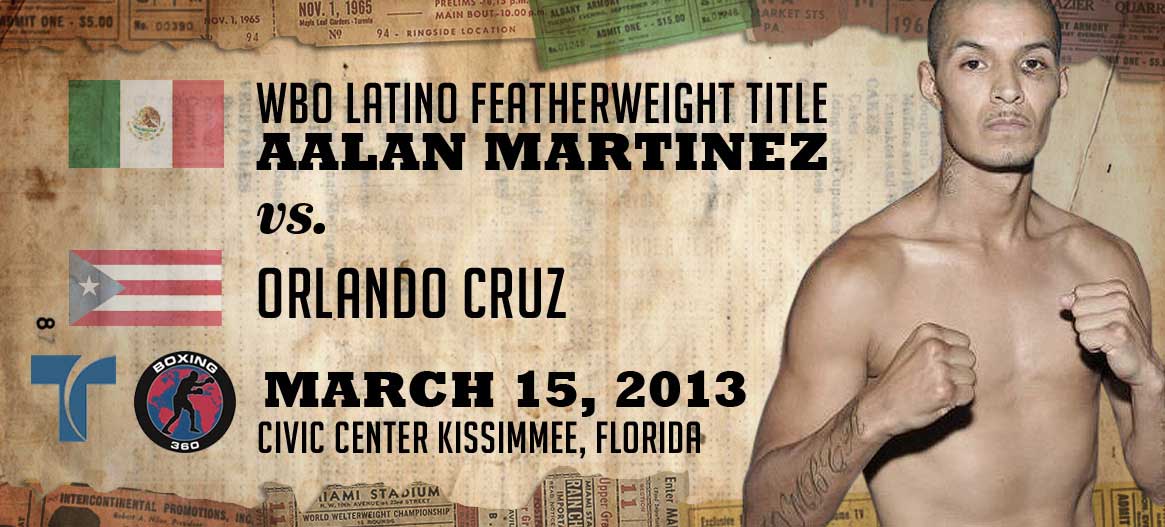 Mexico's Aalan Martinez (14-1-1, 10 KOs) is a days away from the biggest opportunity of his career and a chance to jump up dramatically in the ranks as he squares off with the WBO's #2 ranked featherweight in the world Orlando Cruz (19-2-1, 9 KOs). The 12 round contest is scheduled to be the main event of a Telemundo telecast, from the Civic Center in Kissimmee, Florida.
The undertone of this fight will be the WBO Latino featherweight title on the line as well as the Puerto Rico-Mexico rivalry, which is one of the richest rivalries in all of boxing.
However, the most compelling aspect to the fight has to be the fact that you have two fighters putting it all on the line against one another in order to further themselves in a division filled with potentially lucrative payoffs. For Martinez, he has the chance to earn a victory against a highly acclaimed fighter in Cruz, who was a former Olympian.
"I'm so excited; I just want the day to get here already. This is the part of the camp where you take things easy and it's all about the mental preparation. I've played this fight out in my head and considered so many different outcomes, but every single one of them ends with me victorious," Martinez said.
Martinez is very aware of what a win would mean for his career, but he feels that merely winning isn't enough and he is looking to make a statement.
"I'm focused on the task at hand, but my goal isn't just winning the fight. I've prepared my body to outperform myself on every level and this will be my chance to really gain the attention of the entire boxing community. I'll go out there and perform the way I know how; with just one impressive performance I can totally shakeup the landscape of the division," Martinez said.
Mario Yagobi of Boxing 360 is Martinez's promoter and he isn't underestimating the difficult task that awaits Martinez on Saturday night. However, he knows that a win would put his fighter's name in the mix with all the top talent of the featherweight division.
"This will be a coming out party of sorts for Aalan and we are all very proud of what he's been able to do in boxing so far, but I know that he won't be satisfied until he is triumphant on Saturday. This is a difficult challenge and usually the more difficult the challenge the greater the reward and a win over this kind of opponent could lead to some truly interesting fights," Yagobi said.
Aalan Martinez is promoted by Boxing 360.  For more information on Martinez please visit www.boxing360.com.
---