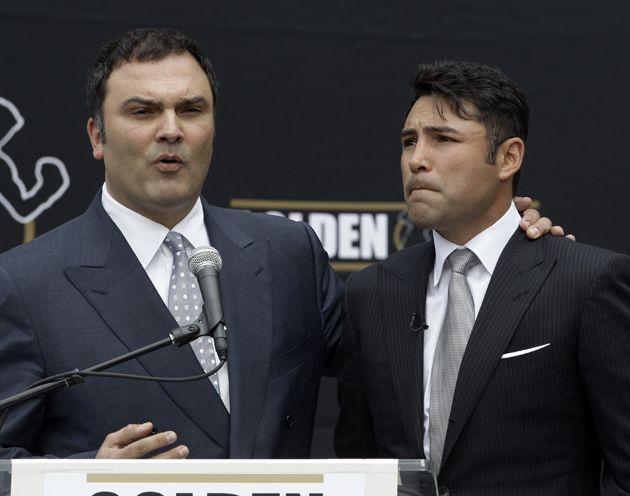 As the cold war between Golden Boy Promotions and Top Rank seems to be thawing, the civil war inside the Los Angeles-based promotional company owned by Oscar De La Hoya is heating up as the "Golden Boy" himself and his appointed CEO, Swiss banker Richard Schaefer, are not looking eye-to-eye on one major issue:  Whether they will work with octogenarian Bob Arum of Top Rank.  De La Hoya, in the middle of a post-rehab love daze, has stated various times in the media that his answer is a resounding yes while Schafer, who has helmed the promotional company since his hiring years ago, will not even consider the option.
It all began this past December when De La Hoya wished Arum a happy holiday season.   Many believe that De La Hoya's new found love for his former promoter is a direct consequence of the twelve-step program he followed during his rehab stint last September.  More specifically step number seven which states, "Make a list of all persons we have harmed and become willing to make amends to them all."  Things between the two have not always been "peaches and cream" especially when De La Hoya announced after beating Arum in court back in 2001 that he had, "just defeated one of the biggest Jews to come out of Harvard."
Seems like Arum is a forgiving fellow since he has responded all of De La Hoya's recent advances with nothing than smiles and agreeing that they can absolutely work together in the near future in making all the big fights the fans want to see.  De La Hoya spoke last week with Lance Pugmire of the LA Times and not only mentioned that he was in early talks with Arum  for a possible Pacquiao vs "Canelo" Alvarez fight later this year but that all was worked out with his CEO, Richard Schaefer.
That's when the stuff hit the fan.
Two days later Schaefer spoke to the same reporter and completely denied signing a contract extension that De La Hoya mentioned in his interview as well as categorically announcing that he will in no way, shape or form work with Bob Arum.
Things turned for the worse this past Saturday at the StubHub Center in Carson, California, where Golden Boy Promotions presented a triple header on Showtime.  With Schaefer sitting in the second row, De La Hoya showed up in the third round of The Omar Figueroa vs Jerry Belmontes WBC lightweight title fight and despite sitting two seats away, failed to speak to or shake the hands of the man who runs his company.  Schaefer briefly spoke to the media regarding the rift but not really saying much. He did take the opportunity to once again say that his business model does not include Bob Arum or Top Rank.
Where all this leaves us boxing fans is holding our breath since we know that if Schaefer stays and convinces Oscar that his way is the right way, we will be stuck with two different leagues that operate pretty much isolated from one another. If De La Hoya exhorts his control over his company and sends Schaefer packing, the flood gates then might open in potential Golden Boy-Top Rank offers but for how long? Will the courtship last long or will the problems both Arum and De La Hoya surface?
We also can't forget about Schaefer who with him at the helm he has made Golden Boy into the biggest promotional company in the world as he has recently loved to share.  Will he go back to banking? Or team up with Al Haymon as it is rumored?
It's a waiting game now…
---