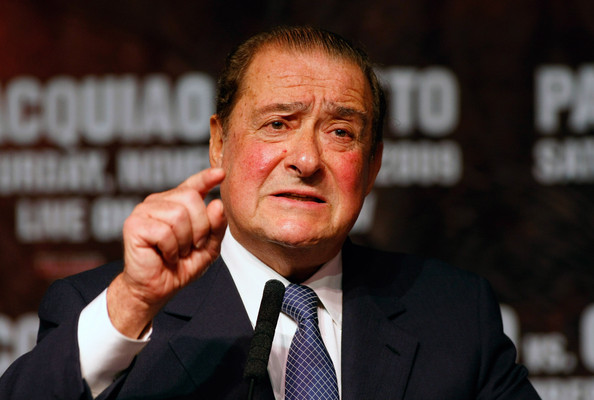 TOP RANK'S ARUM MIGHT HAVE SCORED THE BEST SHOTS OF THE WEEKEND
Despite an olive branch being extended the last holiday season by Golden Boy Promotions' Oscar De La Hoya towards Bob Arum of Top Rank, the octogenarian did not hesitate to shoots some stingers towards the MGM Casino in Las Vegas, pound for pound king Floyd Mayweather Jr and Showtime this past week in separate press conferences held at the very venue he is criticizing.  Arum's main bone to pick against the property was the fact that due to a mistake, the casino's story, publicity material promoting the upcoming Mayweather Jr-Maidana WBA/WBC welterweight clash set for the Grand Arena on Saturday, May 3rd, and broadcast on Showtime PPV.
At first hesitant to mention anything during the final press-conference for the rematch between WBO welterweight champion Timothy Bradley and Manny Pacquiao last Wednesday, Arum threw caution into the wing and during his time at the podium launched some zingers.  "At the Venetian (in Macao) they wouldn't make a mistake like this.  They know what fight was scheduled three or four days and they wouldn't have a 12-1 fight all over the building that's going to take place three weeks from next Saturday.  But, that's why one company makes a billion dollars a quarter and the other hustles to pay its debt.  There it is.  Say it like it is," according to Fightnews.com.
In true Arum fashion, he also alluded to some kind of underworld practices by Showtime when he stated that nobody on his card on Saturday night had to pay anything to participate.  He also added, "that was an old tactic Frankie Carbo used but it doesn't go with HBO or Top Rank."
Arum mentioned that unlike Mayweather Jr vs Maidana, which betting line is 12-1 in Floyd's favor, the Bradley vs Pacquiao rematch is a more much tighter 2-1 with Pacquiao the favorite.  He also said that his next PPV event, the WBC middleweight tilt between returning Sergio "Maravilla" Martinez and Puerto Rican Miguel Cotto on June 7th in New York City, is also a very competitive fight with the odds not much more than 2-1.  In true promoter speak and since he was on a roll, he also dared to include the Juan Manuel Marquez vs Mike Alvarado bout set for May 17th in Los Angeles as also a 2-1 betting line which is a stretch since most in the know place the four-time world champion Marquez as a wider favorite.
Always the sly and clever business man, he made sure there was a safety net to his remarks since he closed his rant with, "if whatever I said was incendiary, I'm an old guy and I apologize."
During the undercard press conference held on Thursday, he threw a shot at Maidana who fights Mayweather stating that despite himself being over eighty-years-old, he's faster than the plodding Argentinean.
A more subdued Arum made a good point later on as he mentioned that the true entity that was getting the shaft was beer company Tecate who is the main sponsor for Bradley-Pacquiao II.  He mentioned that Tecate pays a hefty fee to be the primary sponsor and ensure its beer is sold during the event only for its execs to show up and see all the promotion for Mayweather-Maidana which rival Corona is the main sponsor.
All in all, despite his old age, Arum still can  go at it with the best of them….
---