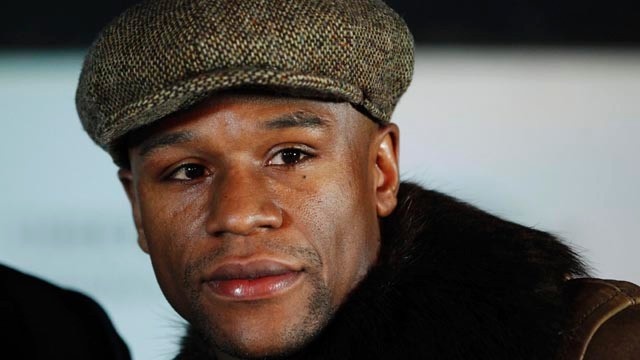 The $64,000 question on top of the pyramid and on any other structure in boxing is if the pound for pound and PPV king Floyd "Money" Mayweather Jr will ever climb into a ring and stare down Filipino congressman Manny Pacquiao before either one of them hangs up the gloves in the next couple of years.  The fight has been hinted, talked about and nearly erroneously announced since 2009 with neither a sit down nor perhaps even a serious conversation had between any of the decision makers, mainly Golden Boy's Richard Schaeffer (who negotiates Mayweather's deals) and Top Rank's Bob Arum.
When it was first mentioned five years ago, the conditions and eventually the reasons of why it didn't come to fruition came down to banned substance tests, purse splits and perhaps egos.  At that point, neither fighter nor their camps felt they needed the fight.  That year Pacquiao defeated Ricky Hatton and Miguel Cotto in two very high profile events while Mayweather only fought once against Juan Manuel Marquez.
Since then, things have gone a bit different for both fighters.
Mayweather has obviously not lost on his way of becoming the biggest PPV seller in the business and one of the highest paid athletes in the world.  After defeating Shane Mosley, Victor Ortiz and Miguel Cotto on HBO PPV, Mayweather made the jump to Showtime with an unprecedented deal that at the end of it would make his children's children millionaires.
Pacquiao has not been as successful.
Despite also becoming one of the highest paid sports figures in the world, Manny has not been as lucky in the ring going 5-2 in his last seven fights.  Pacquiao dropped a controversial decision to Timothy Bradley which many saw him win but his loss to Juan Manuel Marquez at the end of 2012 is tragically what quite possibly most fans, hardcore and casual, might remember Pacquiao the most by despite all his wins over some of the best of what boxing has to offer in this generation.
Mayweather and Pacquiao couldn't be more different without being so much alike.  Mayweather is flashy, outspoken and brash while Pacquiao is quiet, respectful and humble.  Both belong to a tax bracket that the majority of the world's population could only dream of and with that they share many of them of the same luxuries and vices success can bring.  It is no secret both enjoy expansive mansions, expensive cars and a taste for gambling with Mayweather flaunting his toys and winnings while Pacquiao doesn't.
The question here is do they need each other?  Would either of their legacies be more or less if they never meet inside a ring?
Everything points that if this mega-fight ever happens it won't be until some time in 2015 when Pacquiao's contract ends with Top Rank.  Mayweather has clearly stated that he will in shape or form work with his former promoter Bob Arum.  By that time, Mayweather will be nearing thirty-eight years old while Pacquiao will be thirty-seven.
By then, will boxing still be interested? Are we now?
---