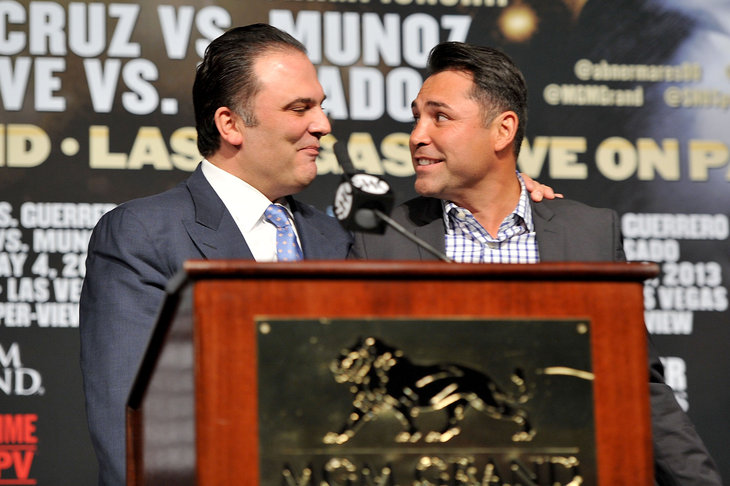 A sizeable shift in the boxing business might be in the works as the most successful promotional company in the last couple of years, Golden Boy Promotions, might undergo major changes in its executive branch pretty soon.  Talk around town from various sources is that the "Golden Boy" Oscar De La Hoya, majority owner and founder of the company, is not on speaking terms with long-time CEO Richard Schaefer and vice-versa which can lead for Schaefer to part ways with the company he has helped build for the last ten years.
Depending who you read or believe, Richard Schaefer is looking to merge with low-key consultant Al Haymon, who by the frequency in which he is signing new fighters, might be taking over boxing all on his own.  What a three-prong power struggle at the top of the boxing universe can bring to the sport can only be guessed at and we must wait and see.  What it can bring could be an more open and workable working relationship between De La Hoya's Golden Boy Promotions and former promoter Bob Arum.
It is no secret that presently both entities have not worked together in quite some time and are currently involved in a cold war.
Since recently completing his stint at rehab that began the same weekend as Mayweather-Alvarez last September, De La Hoya has been concentrating on the amending of errors step of his rehabilitation.  Recently he has praised not only HBO, the network that publicly embarrassed his company by releasing a memo stating that Golden Boy Promotions was not welcomed on their airwaves, but also his former promoter Bob Arum going as far as calling him over the holiday season and recently saying he loved him during an interview.
Many believe that De La Hoya's recent softening of his stance towards HBO and Arum is at the center of the rift with former Swiss banker now promoter Richard Schaefer.  Throughout the years as De La Hoya partied the nights away and then took time off to fix is relationships including with his family, Schaefer worked the days in creating Golden boy Promotions in one of the two biggest promotional entities in the sport.  While De La Hoya is open to working with Arum and perhaps getting back in the good graces of the network that helped him become one of the sport's biggest stars, Schaefer would rather hold steady on his stance of not needing either one.
No real news has come out of either Schaefer or De La Hoya although the "Golden Boy" recently shared on his Twitter account that he would have news soon regarding his company and its inclusion or exclusion of Schaefer.  Even Bernard Hopkins, who loves to comment on everything and anything regarding boxing or any other subject, declined to comment recently about what his going on in the company he is promoted by.  In quite possibly a first, Hopkins gave a shocking, "no comment" when asked about his thoughts on the situation.
More to come…
---